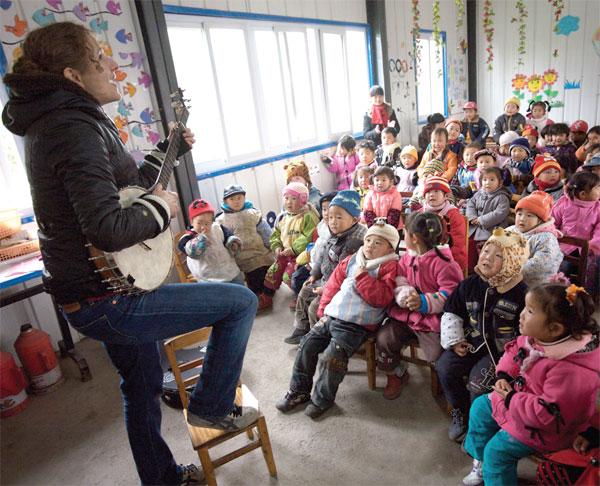 American banjo player and singer Abigail Washburn performs for a group of Chinese kids in Sichuan in 2008, shortly after a devastating earthquake killed about 70,000 people there. Provided to China Daily
When banjo-player Abigail Washburn performed for a group of Chinese kids - some of whom had just lost their families in a devastating earthquake - in Sichuan in 2008, she felt China was a part of her and that she was making a difference in people's lives there.
"It felt like my friend had been hurt and I wanted to help," said Washburn, recalling all the kids, even those injured by the earthquake, who came to embrace her after her performance.
"When someone lets you see their pain, it's an incredible honor," she said. "These kids taught me a lot about compassion, bravery and strength."
The Illinois-born 36-year-old musician is among those who help build US-China relations and she does it in quite a unique way - using banjo music to create a feeling of no borders.
"The whole reason that I started playing the banjo was because I loved Chinese culture so much," she said.
Washburn's first China experience - a summer program at Fudan University in Shanghai in 1996 - was not great, mostly because of the language barrier. But that less-than-perfect experience and her disenchantment with a nation of 1.3 billionpeople stuck with her when she returned home.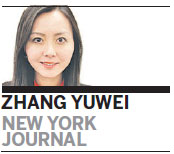 "I just couldn't sleep at night," she recalled. "I thought I really had to go back and learn how to live in China and how to fall in love with it."
Six months later, she returned, giving up her plans for law school, to help build US-China relations. Washburn was determined to understand China with her own eyes and experience. Her friendship with a local Shanghainese woman, Old Lady Wang, opened the door for her.
Washburn visited Old Lady Wang four days a week to learn Chinese during her teaching gig at a local university. Eating Wang's homemade dumplings, hearing her read poetry and her stories - some of which were from the "cultural revolution" (1967-77) - Washburn became more and more fascinated with China.
"I was just overtaken and felt deeply in love with Old Lady Wang and her stories and through that fell in love with China," she said. "I decided then that I would somehow be engaged with China for the rest of my life."
"Every single little bit of my experiences in China, it's like it's one of my oldest friends," she said.
Traveling back and forth between the US and China for the past 18 years, either to perform or just visit, Washburn said China makes her see her country and herself better.
The Nashville-based claw-hammer banjo player wanted to share with many Americans her experience of going to China, not liking it and returning to find so much beauty there. "I have to learn how to share that process with other Americans," Washburn said.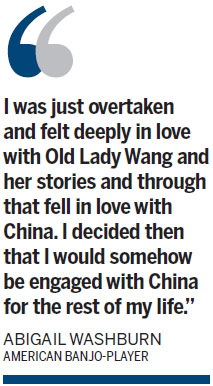 "China teaches me to overcome my own disenchantment and my own sense of consumerism - as an American, when I am somewhere, I want to be pleased," said Washburn. "China helped me overcome all that."
"I need to share with other Americans how to fall in love with China," she said.
As her passion for building a stronger US-China relationship grows, Washburn hopes the two governments will think more creatively of how to connect the two cultures with more artistic elements involved.
Washburn sings her Chinese songs in her nationwide tours to pass on her message about China, hoping the Chinese songs will help her audiences see something different from what they see in American media.
"If I can sing a song in Chinese in front of these people, it actually softens their feeling about China and it can change their mind about China - at least a little bit," she said.
Her next gift to both her Chinese and American fans is a new album due out in the fall. Washburn said the album has a Chinese song - Hao Hua Hong (Beautiful Red Flower) - she recorded with her husband world renowned banjo player Bela Fleck.
"China was even in my marriage vows," Washburn said. "I would support my husband's obsession with music and he has to honor my love of China."
Contact the writer at yuweizhang@chinadailyusa.com.