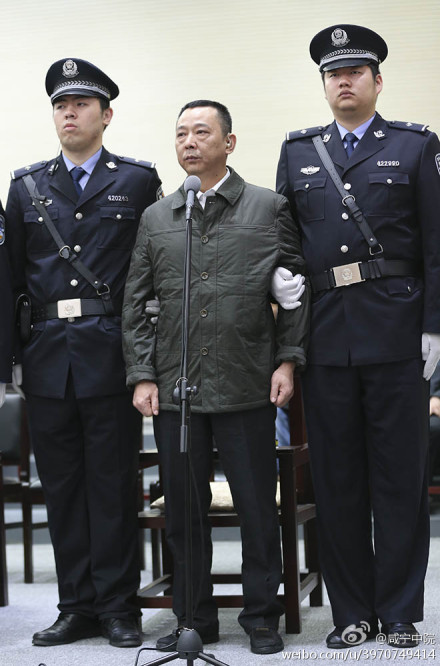 Liu Han, former mining tycoon and leader of an alleged mafia-style gang, stands trial on charges including murder at Xianning Intermediate Court, central China's Hubei Province, March 31, 2014. This photo is shown at the court's official Sina Weibo account.
XIANNING - Trials of 36 members of an alleged mafia-style gang opened on Monday in central China's Hubei Province on charges including murder.
The ring, allegedly led by former mining tycoon Liu Han and his brother Liu Wei in Southwest China's Sichuan province, is the largest mafia-style criminal group to be placed on trial in recent years in the country.
The trial of Liu Han began at 8:31 am at the Xianning Intermediate People's Court.
He was board chairman of the Hanlong Group, the biggest private enterprise in Sichuan. He owned tens of subsidiary companies involved in electricity, energy, finance, mining, real estate and securities.
The Liu brothers and other gang members were charged with about 20 crimes including organizing, leading and participating in a mafia-style gang, homicide, intentional injury, illegal detention, blackmailing, illegally possessing guns and ammunition, collusion in bidding, and defrauding banks of loans, prosecutors said.
The group conducted criminal activities from 1993, mainly in Sichuan, grabbing huge economic interests and seriously disturbing local public security as well as economic and social order, the prosecutors said.