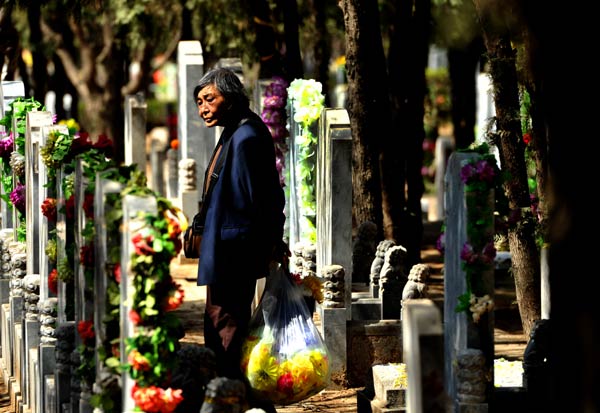 An elderly woman mourns a relative in Babaoshan People's Cemetery on Saturday in Beijing. LI WENMING / FOR CHINA DAILY
Despite the warm sunshine and blossoming flowers, Guan Ping wasn't really in the mood to enjoy a spring outing on Sunday because her schedule was packed with the annual family tomb-sweeping activities.
Guan, a civil servant in Beijing, woke up at 5 am on Sunday and then set out with her cousin, trying to avoid possible traffic jams caused by the many grave visitors during the tomb-sweeping rush over the weekend.
"I expected the huge flow of people traveling to cemeteries around the city, but the overcrowded scene was beyond my imagination," Guan said of the long line of cars waiting outside the gate of Siqinyuan, a public cemetery in the southwest suburb of Beijing, at about 7:30 am.
Visiting and cleaning relatives graves around Tomb-Sweeping Day (on April 5 this year) has long been a tradition for Chinese people to pay respect and grieve, but the congestion of people and vehicles at cemeteries has made it a painful experience for most of the visitors during the brief period.
The crowds that packed the Babaoshan People's Cemetery in west Beijing, as well as the serious traffic jams on surrounding roads, made headlines on Sunday.
"It's really a struggle to get up early on weekends, but we had to do it, otherwise we would be trapped by the mountain of people," said Pan Lichao, a foreign-company employee in Beijing who left home at 5:30 am for a tomb visit.
According to Beijing Funeral Management Center, the 163 public graveyards around the city received about 577,000 visitors and 108,000 vehicles on Saturday, which were year-on-year increases of 13.4 percent for visitors and 16.1 percent for vehicles. The numbers grew higher on Sunday, given the fine weather, said Huang Qiaoquan, an official at the center.
"Generally, the peak of grave visiting will be on Tomb-Sweeping Day, but this year it seems the rush has come earlier, on the previous weekend, after the weather cleared up following smoggy days," said Huang.
With most of the graveyards located remotely, beyond the reach of public transportation, private cars remain the top choice for tomb sweepers, who usually take bunches of flowers, tributes and cleaning tools.
"We would have chosen the subway or bus if the cemetery was nearer, and we wouldn't need to take so many things by ourselves," said Guan, the Beijing civil servant.
After cleaning the tomb of her deceased mother in Siqinyuan, Guan left at 10 am for another grave visit to the Waiqiao Cemetery to mourn her cousin's late mother, but with the heavy traffic, it took them two and a half hours to reach Waiqiao in the northeast city suburb.
"Traditionally, tomb-sweeping has to be done before noon, but there were still a lot of people coming in and out late after lunch, partially because of the travel peak," Ren Zhixin, a facility maintainer at Waiqiao, said on Sunday.
To better serve the surge in visitors, Waiqiao opened at 6 am over the weekend, two hours earlier than normal, and offered such services as a visitor lounge, a free water-drinking tent and a temporary fresh flower shop.
The parking lot, which accommodates about 100 cars, was almost full at 7 am and wasn't expected to be emptied until afternoon, Ren said.
Experts suggest that some modern and frugal approaches should be adopted, such as mourning at online graves and replacing the burning of paper money - to wish good fortune upon deceased family members - with tree planting.
sunxiaochen@chinadaily.com.cn