Xi's visit highlights partnership with Belgium, EU
Updated: 2014-03-31 01:05
By Wu Jiao, Fu Jing and Tuo Yannan in Brussels (China Daily)
Comments
Print
Mail
Large
Medium
Small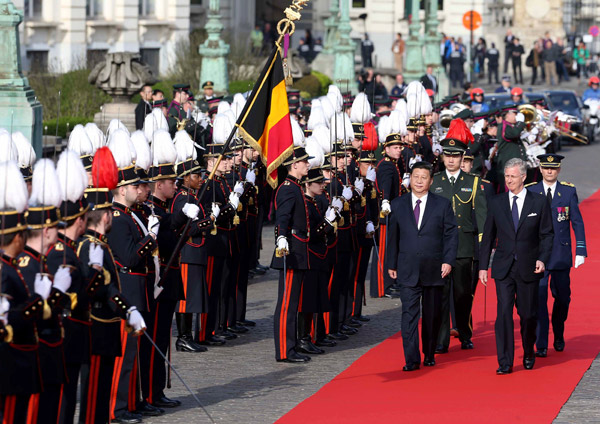 President Xi Jinping, accompanied by Belgian King Philippe, reviews the honour guard at a ceremony in Brussels on Sunday. [Photo/Agencies] 
Panda diplomacy to help promote understanding and friendship
President Xi Jinping gives his best wishes to the two pandas in Belgium that are expected to bring long-term joy to Europeans.
Xi and his wife Peng Liyuan attended a ceremony marking the opening of a panda garden in Pairi Daiza Zoo on Sunday.
Peng gave panda dolls to a dozen of children at the ceremony.
The two pandas, Xing Hui and Hao Hao, are expected to have many fans and friends and help Europeans understand and love China and Chinese culture.
The panda pair arrived in Belgium in February and will stay for 15 years on a lease agreement.
Pandas have long been seen as ambassadors of friendship from China.
Belgian King Philippe and Queen Mathilde accompanied Xi and his wife Peng Liyuan to the panda garden, which is 60 kilometers from Brussels.
During the welcoming ceremony at the Royal Palace in Brussels earlier on Sunday, Xi and his wife, accompanied by the king and queen, arrived at the palace escorted by officers on horseback.
"I hope that through my visit China-Belgium relations and China-Europe ties can be further promoted," Xi said during his meeting with the king.
Xi will meet with Belgian Prime Minister Elio Di Rupo and parliamentary leaders on Monday. On Tuesday in Ghent, he will visit carmaker Volvo, which was bought by Chinese company Geely in 2010.
Also on Monday, Xi will become the first Chinese president to visit EU headquarters, where he will meet with European Council President Herman Van Rompuy, European Commission President Jose Manuel Barroso and European Parliament President Martin Schulz.
The bilateral investment treaty, which China and the EU are negotiating, is on the agenda of Xi's European trip.
In the Netherlands, France and Germany, Xi has asked Europeans to play their role in quickening the negotiation. The second round of the talks is expected to start in Brussels soon after Xi's visit.
Beijing has the intention to speed up the negotiation and hopes it can lay a sound foundation for both sides to talk about a free trade feasibility study. Sources said Beijing and Brussels have encountered "better-than-expected" outcomes when they met for the first round of investment talks.
However, China is concerned that voting in the European Parliament may become bottlenecked.