Xi's speech to shed light on priorities of China-Europe ties
Updated: 2014-04-01 08:23
By Tuo Yannan in Brussels (China Daily)
Comments
Print
Mail
Large
Medium
Small
Xi to focus on EU-China relations during speech at college in Belgium
President Xi Jinping's visit to Europe is an opportune time for China to showcase its "new openness" in diplomatic initiatives, said Jorg Monar, rector of the College of Europe in Bruges.
The main objective of the trip, however, would be to foster more cultural and people-to-people exchanges between China and Europe, Monar said. Xi was expected to focus on EU-China relations in the keynote speech that he was to deliver at the college on Tuesday.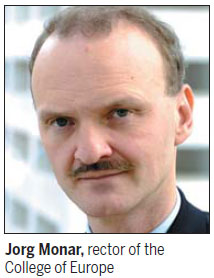 "We look forward to the visit of President Xi and his speech to the students," Monar said. "We see it as an opportunity to understand his thoughts on EU-China relations, and what should be the priorities."
The College of Europe is the oldest higher-education institution specializing in European affairs. It was established in 1949, the same year that the People's Republic of China was established.
The rector said that the president's trip to Europe would be an important milestone in EU-China relations.
"President Xi has already shown that he is determined to move forward by initiating the China dream concept. At the international level, too, Xi seems to be keen on providing new inputs and thoughts, especially on matters related to China," Monar said.
The president's recent initiatives aimed at improving the living standards of Chinese citizens, reducing extravagance in administration and his determination to end corruption have increased interest about China in Europe, he says. "There is so much talk about the Chinese Dream. We are curious to hear from the president on what it means at the international level and its connection to internal and external reforms in China."
Xi has already indicated that he is keen on being innovative in his diplomatic initiatives. Monar described Xi's strategy as "a parallelism between the internal Chinese Dream and external international relationships with major powers".
"The president has taken a proactive approach by playing a key role in international affairs and holding discussions with top leaders on major global issues," Monar said.
Commenting on Xi's image and new style of diplomacy, including first lady Peng Liyuan's personal invitation to her US counterpart, Michelle Obama, Monar said: "It is clearly a new opening and new investment in high-level diplomacy. I see it as a new form of dialogue that tests new concepts of relations with major partners."
According to Monar, students at the college are of 51 nationalities, which makes the school an ideal place for top leaders to communicate with young people.
"We have only three Chinese students now, but we are confident that the number will grow in the future," Monar said. "We want to welcome more Chinese students, as they will help reinforce China's image with European students."
The college has 330 students in Bruges, and it has been largely focused on topics and subjects pertaining to Europe. However, in 2008, it added EU-China relations as a new subject for study.
Xi's visit to the college will also coincide with the opening of a new EU-China Research Center, which will have more than 10,000 books and a library donated by the Chinese government, the first of its kind in Europe.
According to Men Jing, director of the research center, the library will have books and video materials about China's history, culture and education in six different languages.
tuoyannan@chinadaily.com.cn