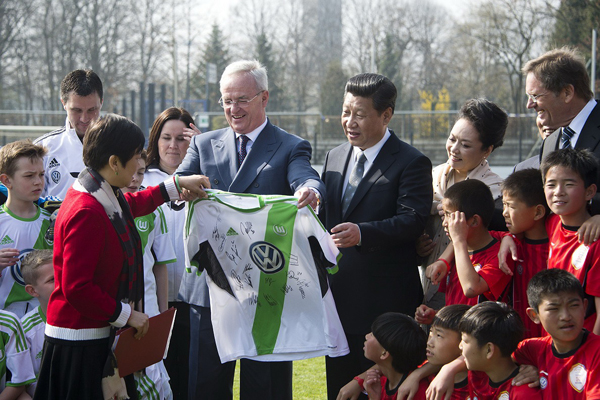 Martin Winterkorn, Chairman of the Board of Management of Volkswagen AG presents a VfL Wolfsburg jersey to China's president Xi Jiping on March 29, 2013 in Berlin, Germany. [Photo provided to chinadaily.com.cn]
Beijing - From March 24 to 30, the Chinese Zhidan and Hong'an junior football team is visiting Germany as part of the Volkswagen-sponsored Rainbow Bridge Project. The visit has included trainings with coaches from VfL Wolfsburg and a friendship match in Berlin against the U13 team of German Bundesliga.
"Volkswagen's support of the Rainbow Bridge Project will provide opportunities for future generations of China from economically less developed areas to fulfil their football dreams and learn what it means to be trained by professional coaches, such as those by VfL Wolfsburg here today," said Prof Dr Jochem Heizmann, Member of the Board Volkswagen Group as well as President & CEO of Volkswagen Group China.
"Volkswagen is committed to constructing a broad platform for cooperation and communication between Germany and China, which will include innovative approaches to intercultural exchange between Germany and China."
During their visit to Germany, the Chinese junior team participated in training activities with the VfL Junior Football Team, 2013 champions of the German Football League Juniors. The Chinese junior team also visited several renowned local museums, as well as Autostadt, where they gained insights into the history and culture of Germany and Volkswagen.
Volkswagen joined the Rainbow Bridge Project in 2013. Initiated by the Chinese People's Association for Friendship with Foreign Countries, the project leverages the organizational experience and support of multinational corporations to support young people from China's less developed areas. People-to-people diplomacy and cultural exchange are central to the approach of the Rainbow Bridge Project.
With a financial commitment of 1.5 million yuan, Volkswagen is playing an active role in the Rainbow Bridge Project by providing junior football trainings, sports equipment and clothing to students as well as vocational trainings and technical equipment for educational purposes.
Volkswagen's efforts have already established men's and women's junior football teams in Zhidan, Shaanxi province, and Hong'an, Hubei province. Volkswagen's support of the Rainbow Bridge Project also includes sponsorship of the Yan An Vocational Education High School, including the establishment of a "Powertrain Lab" and technical trainings for eight teachers at Volkswagen factories.
Throughout its 30 years as the most responsible partner of China's auto industry, Volkswagen has actively supported China's sustainable development by comprehensively performing its corporate social responsibilities in sustainable mobility, clean environment and taking care of people. Volkswagen Group has launched a number of effective programs in China, including the Volkswagen Green Future Environmental Education Initiative, and at the end of 2013, the Volkswagen Child Safety Initiative, which raises the Chinese public's awareness of child road safety and proper use of child safety seats.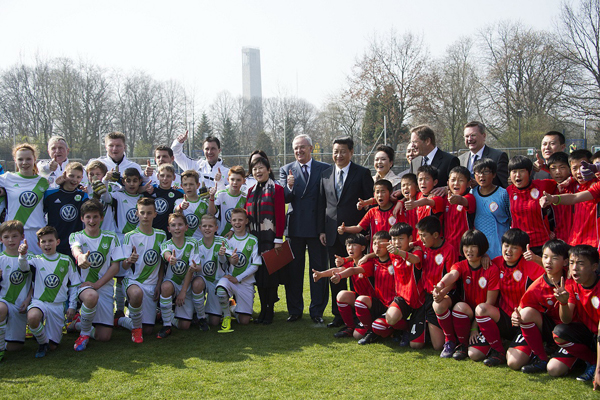 Chinese president Xi Jiping, his wife Peng Liyuan, Volkswagen AG Chairman Martin Winterkorn, Chinese junior football players and VfL Wolfsburg players pose for a photo on March 29, 2013 in Berlin, Germany. [Photo provided to chinadaily.com.cn]