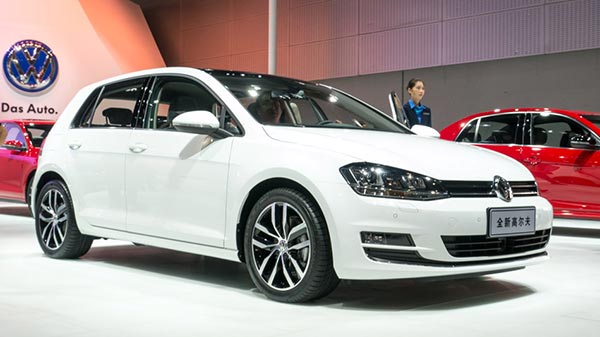 A FAW-Volkswagen's all-new Golf is pictured at the 2013 Auto Guangzhou on Nov 21, 2013. [Hao Yan / chinadaily.com.cn] 
When FAW-Volkswagen's new Golf was launched in Guangzhou on Dec 10, it opened "a legendary new chapter of its exploration in the Chinese market", said the company.
At the launch ceremony, Deputy General Manager of FAW-Volkswagen Hu Yong announced the prices of new Golf are between 121,900 and 182,900 yuan.
"As the best interpreter of the Volkswagen brand, the Golf has represented the direction and trend of Volkswagen cars, and also influenced the design trend of global hatchbacks," said the company.
It said during the past 39 years, the Golf has experienced the evolution of seven generations, and been loved and trusted by over 30 million car owners in the world.
From the launch of the fourth generation to the Chinese market to the hot sales of the sixth generation, the world-class hatchback has won the favor of a great number of Chinese consumers.
As its designer said, the Golf not only leads every generation of VW cars in appearance, but also represents its latest ideas in car building.
Compared with its previous generations, the new Golf has a sportier and stronger appearance with concise and powerful lines.
The longer body and shorter front suspension demonstrate the luxury of the new Golf, while the sharp waistline lowers the visual focus on the model. The concise C-column design still keeps the classical elements of the Golf series.
In interior design, the car has the latest in ergonomics. It uses the interior layout and materials of many B-class cars and above, providing a comfortable space for drivers.
It has an extended wheelbase, offering a more spacious interior for passengers.
The new Golf also shows its luxury in selecting interior materials. The use of Vienna leather and Alcantara-faced seats that are seen on a B-class car bring a more comfortable and pleasing driving experience to users.
Innovative technology
As the first car in China based on the Volkswagen's iconic Modular Transversal Toolkit platform, the new Golf has the high-tech equipment of a higher class.
The entire series comes standard with electronic parking brake, auto hold and XDS system, as well as the ACC and other drive assists that make the driving safe, easy and free.