VW hit by 2.6m vehicle recall in China
Updated: 2013-11-15 10:26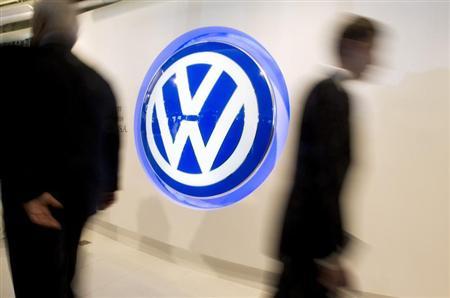 A Volkswagen logo sign is seen inside the lobby of the US headquarters building of Volkswagen Group. [Photo/Agencies]
Volkswagen is recalling over 2.6 million cars, about a third of them in China, to fix a variety of problems, a blow to a group striving to overtake Toyota and General Motors as the world's biggest carmaker.
The recall involves vehicles from the German group's five largest brands by volume, including luxury Audis and core VW passenger cars, and is one of the largest in its history.
Analysts said many of the problems seemed fairly minor, and the recall is a far cry from the almost 19 million vehicles that Japan's Toyota hauled in from late 2009 to early 2011 due to claims of acceleration problems.
However, they added that any question marks over reliability and inconvenience to customers was bad news.
"Carmakers riding on strong growth like VW must be terribly careful that they don't pay dearly for that growth by conceding losses on quality," said Stefan Bratzel, head of the Center of Automotive Management, a private think-tank near Cologne.
VW, which has twelve brands and has boosted deliveries by half over the past six years to 9.3 million cars, said on Thursday it was recalling 800,000 of its Tiguan compact sport-utility vehicle due to the risk of a partial malfunctioning of lights at models assembled between early 2008 and mid-2011.
The Tiguan is one of the Wolfsburg-based company's three top-selling models worldwide this year.
VW also said it was calling on 1.6 million customers globally to have their cars checked that they are using mineral oil rather than synthetic oil to avoid gearbox-related electronic flaws.
China, the world's largest car market, will be particularly hard hit.