Qoros Jiangsu plant to start, export 40% products
Updated: 2013-09-26 15:08
The Qoros Automotive Changshu plant in Jiangsu province is set to start production this year with 40 percent products to be exported, Qoros Vice-Chairman Volker Steinwascher said during the Qoros Technology Day on Sept 17, 2013.
Q & A | Volker Steinwascher, Qoros Automotive vice-chairman
Q:How will Qoros invest in the Changshu plant in Jiangsu province, China?
Volker Steinwascher: I think what we published is that the company has over the years a total investment of something like 15 billion (yuan), and that's more or less all. A part of this is the manufactory.
This is for all the investment that we are doing. That means for developing the cars, for building the manufactory, building the dealerships and all. Everything we have in there is 15 billion (yuan).
Q:How has the Qoros 3 sedan balanced its driving capabilities with a larger interior?
Steinwascher: We have that I show this morning that the back seats room is bigger than the average standard of the international companies. We have lot of room in the back which is why we made this long wheelbase. That is, let's say, very helpful for the taste of the Chinese customers. But I think its size is also very European style.
The driving behavior is European, with a Chinese taste adjustment. It's Europeanize which we understand people like. Because we did some test with potential customers, and they like it very much. Specially, because the driving accuracy is very high. So this is extremely important in our opinion. Because it's a question of safety. That's what I think is very important, especially some of the drivers have the same experience that to drive safely is the key issue.
Q: How is Qoros developing its sales channel globally?
Steinwascher: We already have dealership in Slovakia, so we started already. We selected Slovakia, because in Europe normally the hatchbacks are the cars we should sell, and a few countries in Eastern Europe like sedans. That's one reason I think why we started from Slovakia. But we give us a little time to do more. We're going also to the Middle East, before we go further to Europe.
And when we start in China, we start in China this year, which is the biggest market, the most important market for us. But then from there, we go, let's say, to the major markets in the world. Except we don't have a plan yet for the US.
Q: How do you think about the employees who are from different countries?
Steinwascher: It doesn't matter. I'm looking for people who can do the job, whoever knows how, and are excited to work with us. For example, our CFO is Chinese. He has a lot of experience in the automotive industry. And We have currently I think 26 nationalities in our company.
To me, it is not the issue what the nationality it is. The European side is heavily on the engineering side, because that's what it always was. That's why there are over proportion European is, but to me nationality doesn't mean anything. We have one language. Anybody need to speak English, otherwise I cannot talk to them.
We have low hierarchy, and we work in teams, so nationality doesn't matter at all.
I have a German passport, and my home is in Germany. But I consider myself international. Because I have worked in almost every country in the world, and to me borders don't mean anything.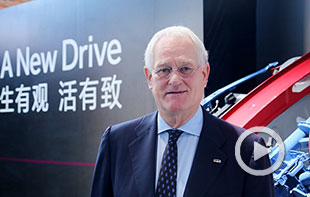 Videographer: Hao Yan
Editor: Hao Yan
Producer: Nie Peng
Executive producer: Han Lei