Qoros illustrates car technology in Shanghai
Updated: 2013-09-23 16:58
The 2013 Qoros Technology Day, themed with Technology That Matters, saw the opening in Shanghai international fashion center on Sept 17, 2013.
Through auto parts and related system demonstration, and unique virtual experience, the Qoros technology team shared the high-standard development process of the Qoros 3 Sedan and other Qoros models, for which they have worked for several years, in six perspectives of safety, design, interconnection, NVH, performance and manufacture.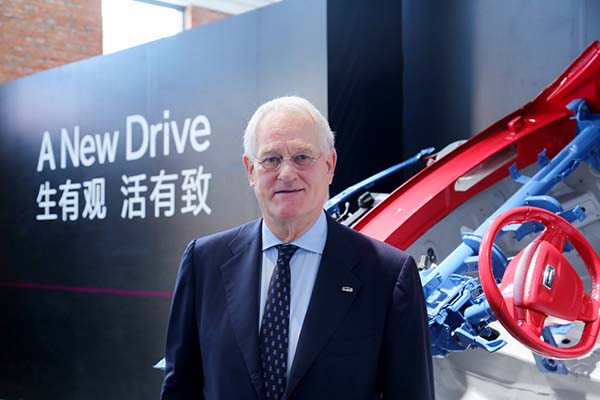 Qoros Vice-Chairman Volker Steinwascher introduces the technologies applied in the Qoros 3 sedan on Sept 17, 2013, next to the Qoros 3 sedan model. [Photo provided to chinadaily.com.cn]
Qoros Vice-Chairman Volker Steinwascher firstly introduced the development strategy of Qoros' modular platform. He emphasized: "Modular platform is the core strategy of Qoros. It can provide Qoros with a bounty of research and development advantages, including cutting the cost, enhancing the efficiency of R&D, as well as Qoros' strong ability of integrating supplier resources."
"The international world-leading suppliers including Magna Steyr, AVL, Getrag etc. and the local suppliers including Neusoft and China Unicom etc. provide Qoros with many advanced solutions for its further R&D, ensuring that the technology and quality of the Qoros 3 Sedan leads its competitors," Volker Steinwascher illustrated.
Based on these concept, the key members from Qoros R&D team explained in detail the "Science" of Qoros 3 Sedan from different perspectives of safety, design, interconnection, NVH, performance and manufacture. For Qoros, the highly sophisticated safety technology is essential to an excellent car. The experienced safety team insures the leading accident safety and occupant protection of Qoros 3 Sedan among its competitors. A high strength body structure and a precisely balanced active and passive safety system are engineered to achieve the highest ratings of the Euro standard.
As to the design, Qoros Head of Design Gert Hildebrand shared the thoughts and design philosophy of the design team. The Qoros 3 Sedan features a distinctive European style of simplicity and elegance, presenting a new premium. Gert Hildebrand, the former Design Director of Mini, embeds his design philosophy in functions, making the Qoros 3 Sedan a perfect combination of both engineering and design.
Neat horizontal element and the unique family-run former face together built a high degree of brand recognition. The design of Qoros 3 Sedan also shows a good balance between the simple European style and Chinese elements. With Head of Design Gert Hildebrand's join, Qoros was given a distinctive characteristic: elegance, simplicity and low-key luxury, which brings customers unique perception enjoyment.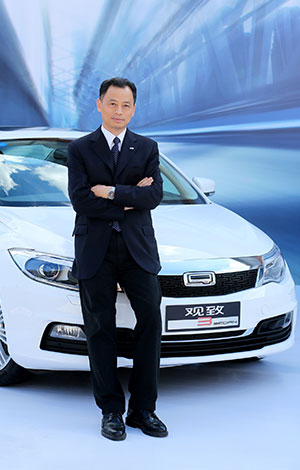 Qoros Chairman and CEO Guo Qian poses in front of a Qoros 3 sedan for a photo. [Photo provided to chinadaily.com.cn]
During the events, participants had an intuitive experience of HMI, an advanced infotainment system that is unique in the automotive sector. It is also the most novelist and eye-catching function of Qoros 3 Sedan. The eight-inch capactive touchscreen replaces the array of switches and buttons that blights many modern car interiors. Just a touch of your figures, you will be able to use all functions very easily. The system featuring surprisingly simple interface and intuitive operation, strong expandability and QorosQloud networking connectivity, provides the drivers with new feelings about their social life, interconnection and in-car assistance, extending their social life into their cars.
In addition, the Qoros 3 Sedan is excellent in quiet in-car environment and dynamic performance. High-efficiency and energy-saving power system with robust chassis match for the Qoros 3 Sedan and bring about excellent driving performance.
"Qoros is a distinctive brand," said Qoros Chairman and CEO, Guo Qian in great confidence, "As a new international auto brand originated from China, the design, development and manufacture of Qoros Auto are completed under the close collaboration of the experienced international team and local talents, dedicated the highest international standard engineering solutions led by customer expectation, and aimed to create the perfectly connection among customers, their cars, modern technology and social infotainment altogether."
The highly anticipated Qoros 3 Sedan is the first model embedded with this concept and will be launched simultaneously in China and Europe in the fourth quarter of 2013, aiming to bring enjoyment to customers around the world by delivering high quality products with well-connected in-car services tailored to meet their lifestyle needs.