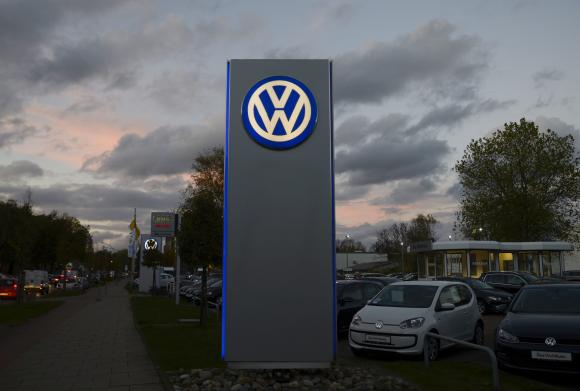 The logo of German carmaker Volkswagen is seen at a VW dealership in Hamburg, October 28, 2013. [Photo/Agencies]
WOLFSBURG, Germany - Volkswagen AG's top labor representative has dubbed the carmaker's US operations a "disaster" and called for more models and swift decisions to revive the German group's declining fortunes in the world's second-largest auto market.
While VW has risen to become the biggest automaker in China and Europe, the group has yet to fully understand how to succeed in the United States, Bernd Osterloh, VW's works council chief, told reporters in Wolfsburg on Wednesday.
"The US are a case of disaster" for VW, said Osterloh, who also sits on the carmaker's supervisory board.
The German multi-brand group last month ousted US divisional chief Jonathan Browning, who oversaw the much-lauded 2011 launch of the midsize Passat, sales of which declined 6.3 percent last year after a 2011/12 surge.
Osterloh echoed criticism from the company's new head of US operations, Michael Horn, who this month said that VW headquarters had paid little heed to the dynamics of the US market.
VW's situation in the United States, where the company has been grappling with losses for years, will not improve until 2016 and it needs more models there, including a pickup truck, Osterloh said.
At the Detroit auto show last week, VW announced plans to make a midsize sport utility vehicle (SUV) for North America as part of a $7 billion investment in the region.
Osterloh lamented that a year after the "CrossBlue" SUV was unveiled, it is still unclear where the model will be built. The carmaker favors its US plant in Chattanooga, Tennessee, over a factory in Puebla, Mexico, a source familiar with the matter told Reuters.
VW's labor leader said that Chattanooga would make sense from an economic viewpoint if the company could offset the higher personnel costs compared with Puebla.