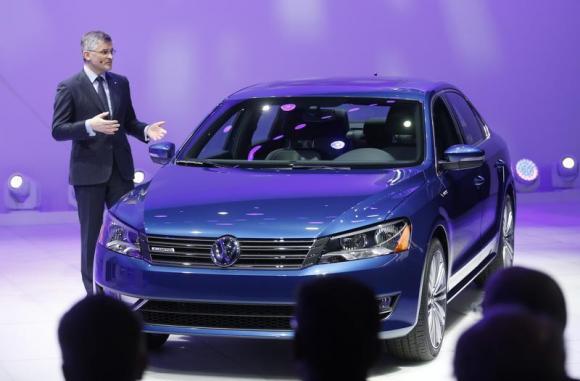 Incoming President and CEO of Volkswagen of America Michael Horn speaks next to the Passat BlueMotion during the press preview day of the North American International Auto Show in Detroit, Michigan January 13, 2014. [Photo/Reuters] 
Michael Horn, the German executive tasked with reviving Volkswagen AG's fortunes in the United States, said the recipe for success in North America is to change the mindset at the company's headquarters in Germany.
"We need to push more. Not here, but in Wolfsburg," Horn said, referring to the German city where Volkswagen is based.
"It's about how to translate the American market in Wolfsburg. They need to listen to the market, the competitive situation," Horn told journalists at the Detroit Auto show.
Getting headquarters to listen to US demands depends in part on having a strong network inside the company, Horn said.
"There are formal organizations and there are informal organizations," said Horn, who has been with the automaker since September 1990.
Volkswagen is considering introducing a long-wheelbase version of its Tiguan compact sports utility vehicle because US customers want three rows of seats rather than only two, Horn said.
Unlike in Europe, most cars that compete with the VW Passat sedan in the US market have a rear-view camera fitted as standard, Horn further said.
Horn said he was open to giving workers at its plant in Chattanooga, Tennessee, a vote about broader representation of worker rights by the United Auto Workers union.
"My view is democracy is a very important part of the American culture, I will accept what the workers eventually will decide to do," Horn said, declining to elaborate on whether Volkswagen would seek to offer a non-UAW alternative way to represent worker interests.