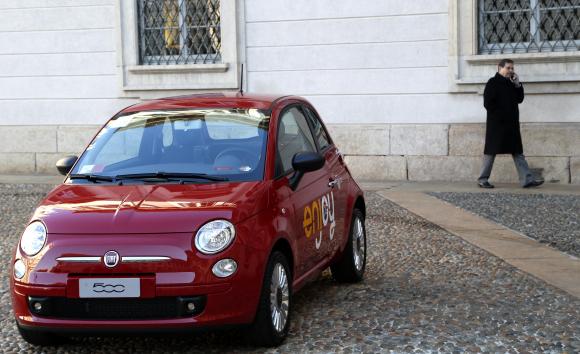 A man walks near a red Fiat 500 car in downtown Milan, Dec 16, 2013. [Photo/Agencies]
DETROIT - Minicars such as the Fiat 500 and Honda Fit performed worse than any other vehicle segment in a frontal crash test that mimics what happens when a car hits another vehicle, utility pole or tree.
Of the 11 minicars tested by IIHS, only one won an overall "acceptable" rating in the so-called small overlap front crash test: the Chevrolet Spark made by General Motors Co, the Insurance Institute for Highway Safety said on Wednesday.
But the Spark does not protect occupants as well as larger, heavier vehicles with the same rating, IIHS said. Minicars can weigh more than 1,500 pounds less than the average model made for the 2013 model year, preliminary federal data show.
"Small, lightweight vehicles have an inherent safety disadvantage," Joe Nolan, IIHS senior vice president for vehicle research, said in a statement. "Unfortunately, as a group, minicars aren't performing as well as other vehicle categories in the small overlap crash."
IIHS introduced the test in 2012 and said it is more difficult than head-on crash tests used by the US government.
In the test, part of the car's front end hit a 5-foot rigid barrier at 40 miles per hour. The vehicles were rated in three areas: structural integrity, the effectiveness of the restraints and potential injuries.
Every minicar, including the Spark, got a "poor" or "marginal" rating for structural integrity, which IIHS called "the most fundamental element of occupant protection." These are the two worst ratings possible in this test.
Four minicar models were rated "marginal," including the 2014 Ford Fiesta. Six were rated "poor," including the Toyota Prius c. None of the models received the best possible rating of "good."
The Honda Fit and Fiat 500 were the worst performers.
Most cars are now built with safety cages that can handle head-on collisions and other crashes without crushing the driver and others inside the vehicle.
But small overlap crashes, involving only the small front corner of a vehicle, affect the outer edges of the car, which are less protected. In those cases, the front wheel, suspension system and firewall bear the brunt of the crash, which can lead to serious leg and foot injuries.
The average vehicle made for the 2013 model year weighs 4,041 pounds and gets 24 miles per gallon of gasoline, according to preliminary federal data. The 2014 Spark gets a combined 34 miles per gallon.
Minicars help automakers meet consumer demand for more fuel efficient vehicles as well as federal standards that call for a 50 percent improvement in automakers' vehicles by 2025.