Volkswagen hosts intl match in Sanya
The Sino-German Friendship Football Match supported by Volkswagen was held in Sanya, Hainan province, on the evening of Jan 16.
Qingdao Jonoon went head to head with VfL Wolfsburg.
Following fierce competition, the match concluded with a 4-0 win for VfL Wolfsburg.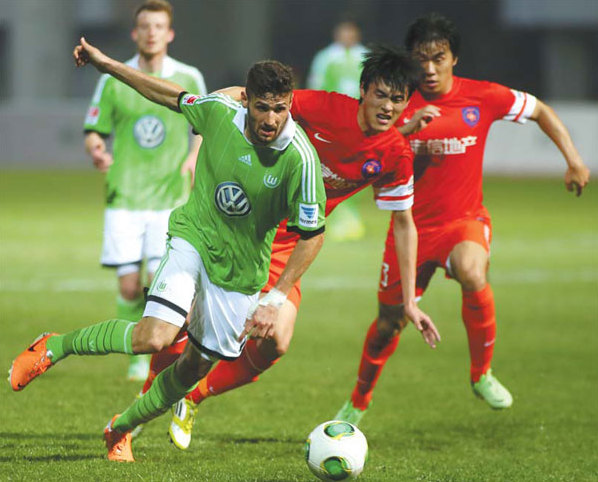 Qingdao Jonoon went head to head with VfL Wolfsburg during the Sino-German Friendship Football Match sponsored by Volkswagen in Sanya, Hainan province. Photos provided to China Daily
For its wide engagement in sports especially football games around the globe, Volkswagen is nicknamed as "partner of football", said company executives.
"At Volkswagen, we want to create the extra emotional experience for the public and our customers," said Jochem Heizmann, board member of Volkswagen AG as well as president and CEO of Volkswagen Group China, who kicked off the match and presented an award to the outstanding players.
"Soccer is a highly emotional team sport, especially with fascinating top performances by renowned international clubs and their players.
"That is why we invited the VfL to visit China during their winter preparation.
"We put people in the middle of our activities, whether they are with our products, services or sports events such as the friendship match in China," said Heizmann.
In 2013, combined passenger vehicle sales by Volkswagen and its two joint ventures surged 16.2 percent year on year to 3.27 million units in China, including around 214,000 imported vehicles, with a growth of 13.2 percent, according to Volkswagen China.
The figures meant that Volkswagen regained its top position in China from General Motors.
GM overtook Volkswagen to be the top automaker by sales in China in 2005 and maintained the leading position for seven years.
It was also the company's first time to deliver more than 3 million cars in a country, according to Volkswagen China.
"Last year was a very successful year for us, and we intend to continue our growth in 2014.
"We are well prepared for new challenges in China's auto market," Heizmann said.