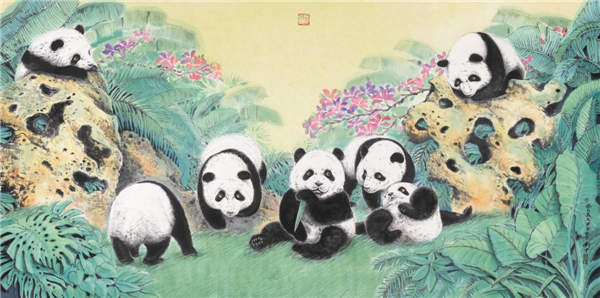 Panda paintings by artist Liu Zhong. Photos provided to China Daily
Chinese artist Liu Zhong recently brought 80 of his Giant Panda paintings to Hong Kong for a three-day exhibition titled "Pandas and Their Friends". His paintings depict the daily lives of pandas as they play together or with other animals. Liu also visited a local community to teach teenagers how to paint pandas.
In order to increase animal protection awareness and a better understanding of nature, Liu has invited 20 teenagers from Hong Kong to take part in a summer camp program that involves watching pandas in their hometown of Sichuan province this July. Liu Zhong is a council member of the Chinese Artists Association. His work has toured many countries throughout the world.
The exhibition will run through March 20 at the Hong Kong Central Library's art gallery.