President Xi calls on China, Germany to build Silk Road economic belt
Updated: 2014-03-30 09:43
(Xinhua)
Comments
Print
Mail
Large
Medium
Small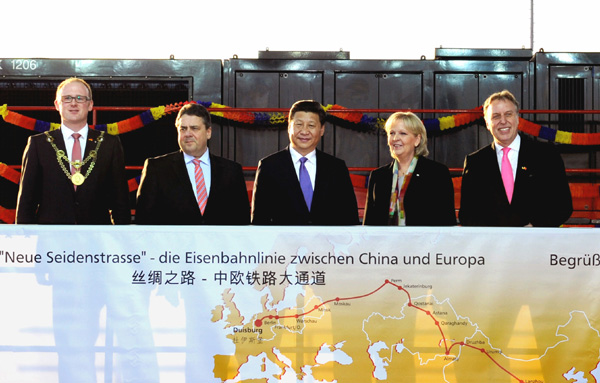 Chinese President Xi Jinping (center) visits Port of Duisburg of Germany March 29, 2014.
 [Photo/Xinhua]
DUSSELDORF, Germany - Chinese President Xi Jinping Saturday called on China and Germany to work together to build the Silk Road economic belt.
Xi made the remarks during a visit to Port of Duisburg, the world's biggest inland harbor and a transport and logistics hub of Europe.
He said China's proposal of building the Silk Road economic belt, based on the idea of common development and prosperity, aims to better connect the Asian and European markets, will enrich the idea of the Silk Road with a new meaning, and benefit all the people along the belt.
China and Germany, at the opposite ends of the belt, are two major economies that serve as the driving engines for economic growth respectively in Asia and Europe, Xi noted.
The two countries, linked by the Chongqing-Xinjiang-Europe international railway, should strengthen cooperation in building the Silk Road economic belt, Xi said.
The Chinese leader expressed the hope that Port of Duisburg will play a bigger role in the China-Germany and China-Europe cooperation.
Xi witnessed the arrival of a cargo train at the railway station in Duisburg from the southwestern Chinese city of Chongqing. The train had travelled all the distance along the Chongqing-Xinjiang-Europe international railway.
The Chinese president, accompanied by Vice German Chancellor and Minister of Economics and Energy Sigmar Gabriel, was warmly welcomed by Hannelore Kraft, premier of the State of North Rhine-Westphalia, and Soren Link, mayor of the city of Duisburg.
Kraft and Link, in their speeches at the welcome ceremony, said the state and the city will grasp the opportunities that the initiative on the Silk Road economic belt brings to them, and step up the cooperation with China.