Xi places high hopes on soccer development
Updated: 2014-03-30 08:16
By Wu Jiao and Li Fangfang in Berlin (China Daily)
Comments
Print
Mail
Large
Medium
Small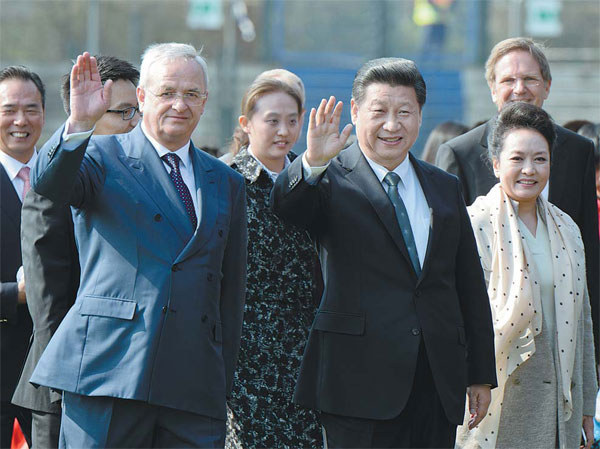 From left: CEO of German carmaker Volkswagen Martin Winterkorn, President Xi Jinping and Chinese First Lady Peng Liyuan wave during a friendly football match on March 29, 2014 in Berlin. [Photo/Agencies]
China should focus more on developing and promoting soccer among youth, President Xi Jinping said after he and First Lady Peng Liyuan took time out from his first state visit to Europe to watch the Sino-German Junior Football Friendship Match in Berlin Stadium on Saturday.
Xi also told a group of Chinese soccer players, who were about age 10, in Germany on an exchange program that he hopes China's youth will produce outstanding players, including international stars.
He told the children that training in Germany will influence their lives.
"(It) will play a guiding role in the development of China's youth soccer and make more youngsters devoted to soccer," Xi said.
He also pledged to promote soccer exchanges between China and Germany.
Xi has been pushing for the sport's development in China. The national team - once a star in Asia - has declined over the past 20 years.
The Chinese leader has made several public comments on his wishes for the game's development.
Xi told Alain Perrin, who was just appointed chief coach of China's national football team, at a reception earlier this week in Paris that "Chinese football fans have placed high expectations" on him.
The 57-year-old French coach's main task will be leading the team to compete in the 2015 Asian Cup in Australia.
"I wish him good luck," Xi said.
China's Zhidan Junior Football Team was selected from more than 5,000 children aged 10 to 14 in Zhidan county, Shaanxi province - Xi's hometown.
They were sponsored by Volkswagen Group China, which participated in the Rainbow Bridge program conducted by the Chinese People's Association for Friendship with Foreign Countries. The program is intended to establish bridges among various possibilities and networks available to major companies and the social needs of China's revolutionary bases.
Before the friendship match, Zhidan's team trained for several days with German champion youth team VfL Wolfsburg in the German soccer club's headquarters.
Joint training camps' objective is to promote exchange between Germany and China, and offer young people professional sports coaching.
Wang Maomao was too excited to fall asleep on Friday night.
"I knew I'd play soccer in the presence of our President Xi. I feel so proud," she said on Saturday.
The 11-year old was the youngest of her team's five girls, yet also the lineup's star.
Xi on sports
In July 2011, after a meeting with Sohn Hak-kyu, chairman of South Korea's Democratic Party, Xi Jinping stated his three wishes about soccer: first, that China hosts the World Cup; second, that the national team qualify for the final stage again; and, third, that one day the Chinese team would win the prestigious tournament.
In February 2012, Xi wrapped up his visit to the United States by watching a live NBA game at the Staples Center in Los Angeles. Accompanied by Los Angeles Mayor Antonio Villaraigosa, Xi watched part of a regular-season game between the Los Angeles Lakers and Phoenix Suns.
In a March 2013 meeting with Brazilian media, Xi proclaimed himself a sports enthusiast who loves swimming, hiking and soccer, before departing to visit several Latin American countries.
In April 2013, Xi invited Gong Lei, head coach of Chinese Super League club Guizhou Renhe, to join a welcome banquet for visiting French President Francois Hollande. Gong, who used to play in Tahiti, French Polynesia's capital in the 1990s, wrote on his micro blog later that he felt honored to meet Xi and Hollande at the banquet and was inspired by Xi's interest in Chinese soccer.
On Thursday, Xi mentioned Frenchman Alain Perrin, who is the head coach of the Chinese national men's soccer team, in his speech to hail Sino-French relations during his visit to France. Xi said Chinese fans have high expectations of Perrin and Xi wished him good luck.