Xi refutes fears over China's national defense buildup
Updated: 2014-03-29 07:34
By Wu Jiao in Berlin (chinadaily.com.cn)
Comments
Print
Mail
Large
Medium
Small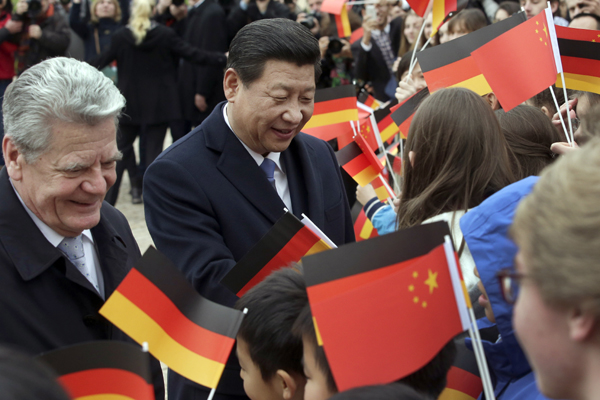 German President Joachim Gauck and President Xi Jinping greet students after a military welcome ceremony prior to a meeting at the Bellevue Palace in Berlin on Friday. PHOTO BY MICHAEL SOHN / AP
President Xi Jinping on Friday countered fears over China's national defense and economic buildup, saying that the country will stick to friendly partnership with its neighbors.
Xi made the remarks in response to a question on China's rising defense budget after a speech sponsored by the Koerber Foundation in Berlin on the first day of his two-day state visit to Germany.
China announced a 12.2 percent increase in military spending earlier this month, with its national defense budget standing at 80.82 billion yuan ($13 billion) this year.
Xi defended the national defense buildup, saying the country's defense matches its size.
Xi dismissed perceptions that the nation's economic might makes it a threat. There are those who "portray China as being the terrifying Mephisto, who would someday suck the soul of the world," Xi said. But that notion "couldn't be more ridiculous, yet some people regrettably are never tired of preaching it."
China's rapid economic growth has helped drive the growth and aid the creation of jobs in its major trade partners, including many of its Asian neighbors. Yet some countries, especially those with territorial and maritime disputes with China, have played the "China threat" card in recent years.
Xi said that as one cannot choose its neighbor, adhering to friendship and partnership with its neighbors is the only right choice for China.
As for the disputes: "We advocate properly handling the frictions and manage disputes through negotiation and dialogue, but on important issues concerning China's sovereignty and territorial integrity, we will not stir up trouble, but we are also not afraid of trouble, and will firmly safeguard China's legitimate rights".
Chinawill never seek "hegemony or expansion", but China will also not repeat the historic tragedy of being enslaved and colonized by the big powers after the Opium Wars, Xi told his audience.
He also reflected on the country's past as the victim of colonial aggression, and said Japanese atrocities during World War II are something "still fresh in our memory."
Relations between China and Japan have been stalled by a dispute over the Diaoyu Islands in the East China Sea, and Japanese Prime Minister Shinzo Abe's visit to the Yasukuni Shrine, which honors the country's Class-A war criminals.