Railway a growth engine for Sino-German trade
Updated: 2014-03-29 07:12
By Zhang Chunyan in Duesseldorf (China Daily)
Comments
Print
Mail
Large
Medium
Small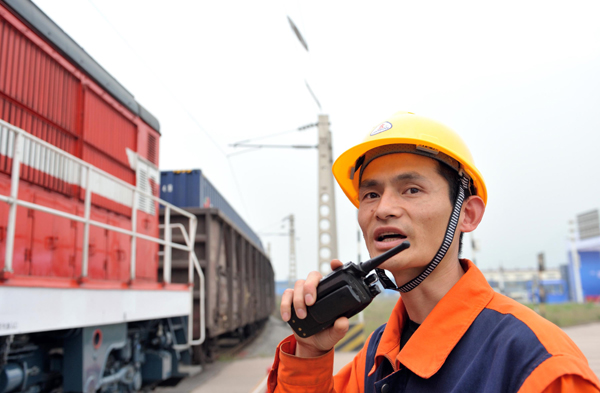 A staff member at the Tuanjiecun railway container terminal in Chongqing. The Chongqing-Xinjiang-Europe International Railway ends in Duisburg, Germany. Liu Chan / Xinhua
President Xi Jinping's visit to Duisburg will provide an impetus to further developing the direct transcontinental railway between China and Germany, the chairman of the German logistics hub said.
"The train is twice as fast as transport on the sea route and only half as expensive as air freight. Therefore, the train connection, which the Chinese are already describing as the new Silk Road, has certainly contributed to improving the connectivity and trade between China and Germany," Erich Staake, the chairman of the Duisburg Hafen AG, told China Daily.
Xi's visit to the Port of Duisburg on Saturday underlines the significance that China attaches to this economically and logistically significant location, he said.
The transcontinental railway between China and Germany, which began operating in summer 2011, is the first train connection between the countries.
Since it opened, the number of weekly departures has risen to three, Staake said.
Goods transported along the route include electronics, cars and medical equipment.
The fact that this transcontinental train connection has been operating for several years proves that it has been firmly placed in the market, Staake said.
The train connection should be promoted as an alternative to sea transport, Staake said. Since the latter half of 2012, the rate of the service has dropped from 80 cents per 22 metric tons of cargo for every km to 70 cents.
"For the coming years, I expect further relevant growth of the train connection, which will contribute to the positive development of Sino-German trade," Staake said.
"One of the challenges (of the railway) will be to further increase the degree of capacity utilization of the train from Duisburg to Chongqing."
Many German companies are not aware of the potential that the train connection offers, he said, adding that they are currently in contact with several potential customers from industries such as the automotive sector.