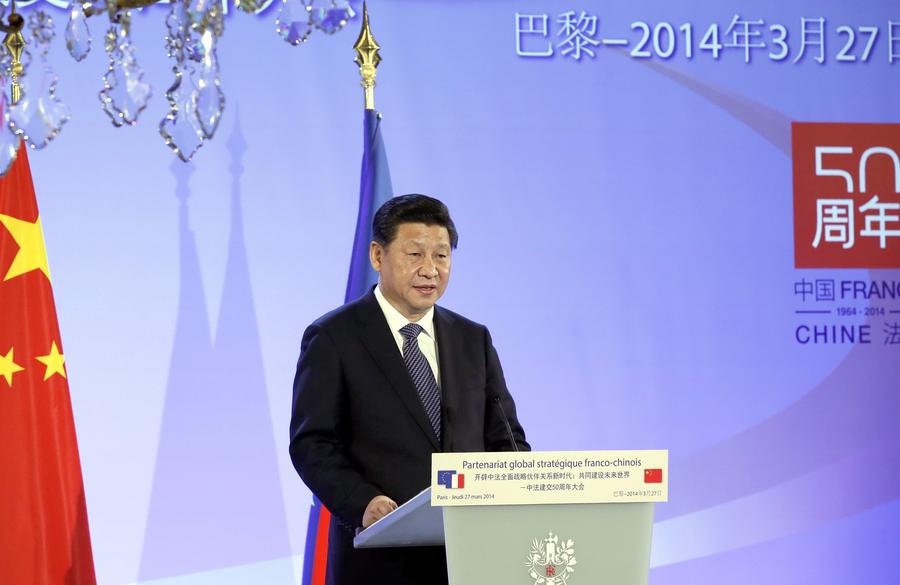 Chinese President Xi Jinping delivers a speech to mark the 50th anniversary of the establishment of diplomatic relations between France and China at the French Foreign Ministry in Paris, March 27, 2014. [Photo/Xinhua]
PARIS - Chinese President Xi Jinping and his French counterpart, Francois Hollande, pledged Thursday to open up a new chapter in bilateral ties.
The two heads of state made the promise at a gathering marking the 50th anniversary of the establishment of diplomatic relations between their countries.
Half a century ago, Chairman Mao Zedong and President Charles de Gaulle made the historic decision to set up China-France diplomatic relations, noted the Chinese president.
Interaction between the two countries, he said, has since become a special major-country relationship in the world, and has always been one of the most developed between China and major Western nations.
Xi attributed the feat to the spirit of independence, mutual understanding, visionary thinking and win-win cooperation, which he said is of great significance to the pursuit of a more beautiful future for bilateral relations.
Noting that the China-France relationship is now at an important moment of history, he called on the two sides to chart a better course for bilateral ties and make their bond ever closer, more sustainable and more special.
Xi suggested that the two countries continue respecting and trusting each other, firmly keep the development of bilateral ties on the right path, support their respective efforts in safeguarding such core interests as sovereignty, security and development, and strengthen strategic talks and cooperation.
The two nations, he said, should also uphold the spirit of mutual benefit, cultivate more common interests, and boost economic cooperation, so as to further consolidate the economic foundation of bilateral relations.
Meanwhile, the two sides need to actively promote friendly exchanges between all walks of life of the two nations, added the Chinese president.
China and France, he proposed, should also stick to the spirit of openness and enterprise, oppose trade protectionism, enhance coordination on macro-economic policy, and push forward reforms in international economic, financial and monetary systems, so as to promote global economic growth.
Moreover, China and France should step up coordination in handling international and regional affairs, and jointly address global challenges, so as to turn China-France relations into a major force for world peace and human progress, said the Chinese president.
Also addressing the event, Hollande recalled that 50 years ago France became the first major Western country to forge diplomatic ties with the People's Republic of China, which demonstrated the two nations' friendship and foresight.
Hollande lauded China's remarkable development ever since, particularly its ascent to the world's second largest economy and its rising international status and influence.
Additionally, he noted that his country has also made continuous strides forward, and is now the second largest economy inside the European Union.
As the two countries are both pursuing reform and innovation, they provide development opportunities for each other, Hollande said, adding that his country is willing to comprehensively boost bilateral strategic cooperation and usher in a new era in bilateral relations.
France is the second leg of Xi's ongoing Europe trip, which will also take him to Germany and Belgium. Before France, Xi visited the Netherlands and attended the third Nuclear Security Summit in The Hague.