Xi calls for closer China-France parliamentary exchanges
Updated: 2014-03-28 03:08
(Xinhua)
Comments
Print
Mail
Large
Medium
Small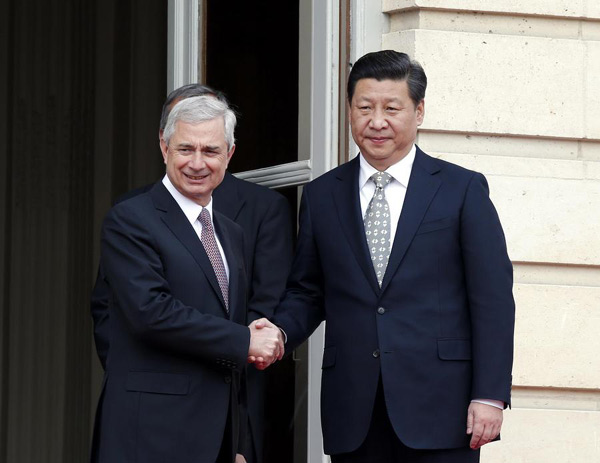 Chinese President Xi Jinping (R) meets with French National Assembly Speaker Claude Bartolone, in Paris, France, March 27, 2014. [Photo/Xinhua]
PARIS - Chinese President Xi Jinping on Thursday called on parliamentary bodies of his country and France to boost exchanges so as to enhance mutual understanding and bilateral friendship.
Xi, who is paying a state visit to France, made the remarks during a meeting with French National Assembly Speaker Claude Bartolone.
Upon the 50th anniversary of the establishment of bilateral diplomatic ties, Xi said, he and French President Francois Hollande have decided to steer the China-France relationship into a new era of close and lasting comprehensive strategic partnership.
Relations between the two countries are now at a new starting point with a broader prospect, Xi said, adding that the two sides should follow the guidance of the newly released China-France joint statement, further consolidate political, economic and people-to-people exchanges, and pursue fresh progress in the development of bilateral ties.
Noting that the National People's Congress (NPC) of China and the French National Assembly have maintained sound momentum in exchanges, he said Beijing hopes the two sides will boost communication on governance and major international issues, enhance mutual understanding and promote China-France friendship.
For his part, Bartolone said Xi's visit to France has scored important achievements and vigorously pushed forward the development of bilateral ties.
The French National Assembly, he said, stands ready to strengthen friendly exchanges with the NPC and play an active role in promoting China-France cooperation and friendship.
France is the second leg of Xi's ongoing Europe trip, which will also take him to Germany and Belgium. Before France, Xi visited the Netherlands and attended the third Nuclear Security Summit in The Hague.