Competitors test their skills in Shanghai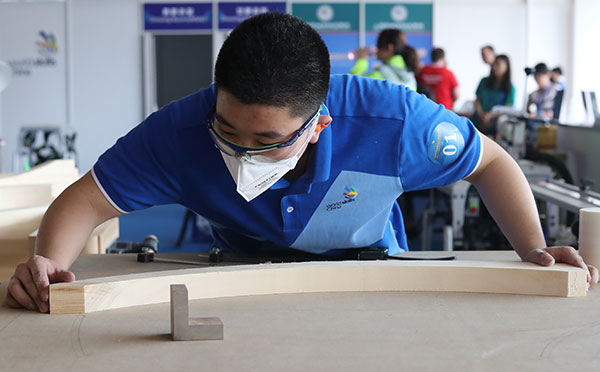 Zhang Jiahao, a 17-year-old carpenter, competes in the joinery event at the 2017 China International Skills Competition.[Gao Erqiang/China Daily]
Wearing protective goggles and a mask, 17-year-old Zhang Jiahao from Shanghai took a deep breath and slowly started to guide his electric saw along the pen marks on the wood.
He was among the contestants in a joinery event at the 2017 China International Skills Competition, which opened in Shanghai and neighboring Suzhou, Jiangsu province, on Wednesday.
Seven participants in the joinery category, including four from overseas, must finish a piece of assigned work-a wooden casement with curves inside the frame like those on old churches or traditional Chinese architecture-by Thursday night, when the competition closes.
The competitors draw lines on a board, saw the wood, cut mortise and tenon joints, assemble the pieces and then trim the lines and corners.
Zhang said the difficulty lies mainly in the mortise and tenon joints. A mortise, or cavity, is cut into one piece of wood into which an extended tab cut on another piece is inserted to form a structure without nails.
"A perfect joint is where the mortise and tenon fit each other seamlessly. Otherwise, it may be rough and the casement may shake," said Zhang, a student from Shanghai City Science and Technology School.
Mortise and tenon joints can be produced by machines or by hand. Zhang opted for the latter, explaining: "Manual control is more accurate. If you overexert with a machine, you might make mistakes."
Cao Yumei, a building construction teacher at the vocational school, said wood is different from other materials such as concrete and steel, because hand woodwork can't be replaced by machines.
"Currently joinery enjoys a rising potential. High-end commercial and residential projects with woods are in demand," Cao said.
Zhang Julang, principal of the vocational school, said: "Fine woodworking typically represents the craftsman spirit that the country advocates when striving to cultivate more high-quality technicians who will bring new momentum to the Chinese economy."
More than 240 contestants from 35 countries and regions participated in the competition, which included 21 skill events-not just traditional skills, but emerging ones in the era of Internet Plus and artificial intelligence, such as robotics and electronics technology.
Yang Bamei, a coach in the category of mobile robotics from Guangzhou Electromechanical Technician College, said applications for service robots and drones have utterly changed views about vocational education-including the views of the students' parents and the wider society.
The competition is an effort to support Shanghai in its bid to host 2021 WorldSkills, the so-called Olympic Games of skills. The biannual competition is put together by WorldSkills, a global organization that promotes skills excellence and development.
The final hosting decision will come in October. Basel, Switzerland, is also in the running.
"Any country needs a mixture of skilled workers who have been trained with their heads, hearts and hands," said Simon Bartley, president of WorldSkills International, the organization's nonprofit member association.