Satellite to provide data on quakes
China will launch its first electromagnetic earthquake monitoring satellite this year, making it a leading country in the field. The satellite will improve earthquake observation and forecasting, the top earthquake administrative authority said on Wednesday.
"China has established a seismological observation network nationwide, including 1,300 plus observation stations," said Zheng Guoguang, head of the China Earthquake Administration, at a conference showing technological improvements over the years.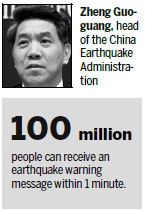 The new satellite will be China's first space-based platform for earthquake monitoring. It is designed to remain in orbit for five years and record the electromagnetic signatures of earthquakes above magnitude 6 in China, and quakes above magnitude 7 elsewhere in the world, according to Shen Xuhui, deputy chief of the mission.
Information collected is expected to help scientists find common factors that can be used to develop earthquake forecasting technology, he said.
Zheng also spoke about technological improvements that have helped the country improve forecasting, disaster prevention and emergency rescue.
Now, within 1 minute, more than 100 million people can receive an earthquake warning message, the administration said. Also, a mobile phone application is available that can help residents plan for possible disasters by setting up hypothetical scenarios - distance between epicenter and home, strength of temblor - and see damage assessments.
Zheng said developed countries have a significant technology gap when it comes to earthquakes, and China lags in some respects. The country will promote seismological science and technology, making it among the best in the world by 2030, he added.