Blind get access to College English Test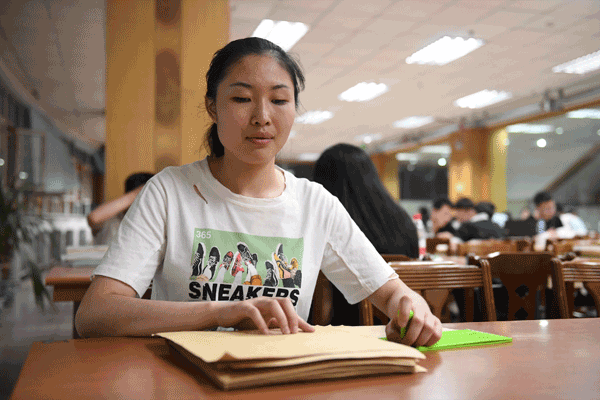 Yu Ya'nan, a student majoring in piano performance at Changchun University's Special Education School, studies English at a library on Friday. Yu was one of the first five blind students to take the College English Test. ZHANG NAN/XINHUA
China's education authority pledged to keep improving the accessibility for students with disabilities to taking exams after five visually impaired students took the national college English test for the first time on Saturday.
Exam administration bodies nationwide will continue optimizing the procedures and providing logistical and academic assistance to exam takers who have disabilities to serve their specific needs in taking various national exams, the National Education Examination Authority said on Sunday.
The authority, which is affiliated with the Ministry of Education, stressed that accessibility is the key in a written response to an interview on thepaper.cn after a group of students took the English test in Jilin province.
Five blind students from Changchun University's School of Special Education joined their peers on Saturday to take the College English Test, better known as CET, with their test papers printed in Braille in a separate room away from other students in Changchun, capital of Jilin province.
The CET includes listening, reading and writing. Many Chinese universities will not allow a student to graduate without obtaining a CET 4 or 6 certificate.
This was the first time Braille test papers were used at the exam. The blind students were given 195 minutes for the test, 65 minutes longer than usual to allow more time to read and write in Braille.
In a classroom next door, three visually impaired students were given large-font test papers and 169 minutes to answer with the help of magnifying lenses and reading lamps.
All the visually impaired students were accommodated in a well-lit classroom on the first floor and provided with power cords, bottled water and snacks, Li Meng, an exam official at Changchun University, told Xinhua on Saturday.
Two teachers, one of whom knew Braille, stood by in case the students needed help, he said.
"The measures were made to ensure that visually disabled people could have convenient and equal access to the exams," the authority said.
Since early last year, the administration and the China Disabled Persons' Federation have been working closely to finalize the regulation and detailed operational procedures for blind and visually disabled students to take the exam.
Successful experiences of this test as a pilot will be introduced to more regional examining authorities to benefit more students, said the authority.
The new policy has helped some disabled students like Luo Qian, a senior majoring in acupuncture and massage at the university, realize their dreams.
Access to the CET marks the second major landmark for blind and visually impaired students after they were officially allowed to take the gaokao, the national college entrance exam, in 2014. In April of that year, the Ministry Education issued a regulation in April that year requiring examining bodies to provide assistance and tools to enable such students to take the test.
Last year, the regulation was extended to cover students with a variety of disabilities to allow them to enter gaokao test halls ahead of time with specialized staff, such as sign language interpreters, to offer help.
Xinhua contributed to this story.