Zidane joins managerial immortals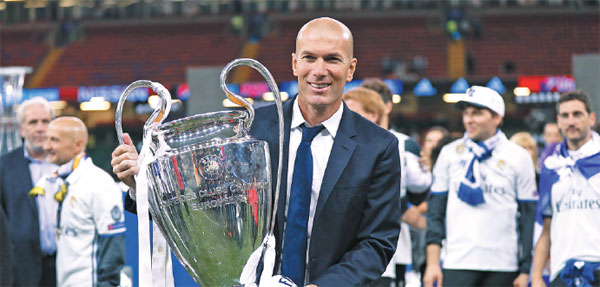 Real Madrid coach Zinedine Zidane proudly shows off the Champions League trophy in Cardiff on Saturday. Reuters
CARDIFF, Wales - Feted as one of the finest talents of his generation, Zinedine Zidane has made the transition to management so smoothly that he has already eclipsed some of the game's most hallowed names just 17 months into his tenure as Real Madrid boss.
When Zidane's majestic strike flashed into the net to give Madrid victory in the 2002 Champions League final against Bayer Leverkusen, the French star must have believed he would never surpass that golden moment in Europe's top-tier tournament.
Yet at Cardiff's Principality Stadium on Saturday, he joined the managerial immortals as Madrid's 4-1 rout of Juventus made him the first coach to win successive European Cups since the great Arrigo Sacchi of AC Milan in 1989 and 1990.
Not even Alex Ferguson, Jose Mourinho or Pep Guardiola has achieved that epic feat.
"All the coaches you mentioned, they're great coaches. I don't want to say I'm very good because before I was scandalously bad and now I'm supposed to be the best," Zidane said modestly.
"I have the chance to be with this great squad. In the long run, everyone's been very important. For me that's the success."
Madrid's impressive win rightly sparked praise for Cristiano Ronaldo's predatory brace.
But it was Zidane who provided the inspiration for Madrid's first La Liga and Champions League double since 1958.
After taking the lead through Ronaldo, Madrid was rocked back on its heels by Mario Mandzukic's stunning overhead-kick equalizer before the interval.
However, Zidane turned the tide in the space of a few words when he faced his uncertain players in the dressing room.
Imploring his stars to believe in themselves as much as he did in them, Zidane struck the right tone and eased their fears that the trophy may slip from their grasp.
Ronaldo admitted it was in those moments that the match was won.
"Zidane gave us a very positive halftime team talk and told us he really believed in us," he said.
With Zidane's words ringing in their ears, Madrid was revitalized in the second half, scoring three times to retain the famous 'cup with the big ears'.
As he stood on the pitch amid the confetti and fireworks after the match, a bashful smile across his face, Zidane could have been forgiven for letting his mind drift back to his childhood.
Born among Marseille's toughest streets, Zidane said this week: "If you said I was going to live all of this when I was a child, quite frankly I would never have believed, but here I am living it."
Throughout an incredible playing career that brought him fame and fortune, Zidane remained a reluctant hero, even when he became the idol of a nation by starring in France's 1998 World Cup triumph.
But it was that calm demeanour that appealed to Madrid chief Florentino Perez when he made the surprise decision to appoint Zidane as boss in January 2016.
Agece France-Presse