Electric Scooter rides into history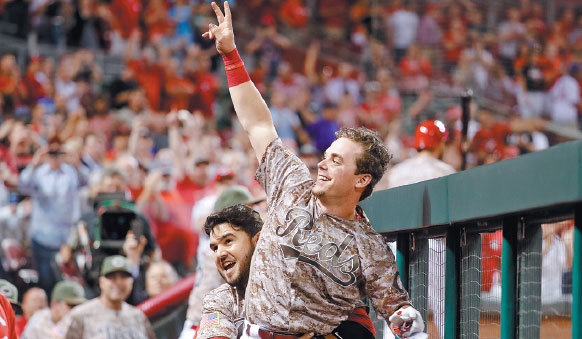 Cincinnati Reds' Scooter Gennett is hoisted by teammate Eugenio Suarez after Gennett tied the MLB record by slamming his fourth home run of the night in Tuesday's 13-1 victory over the St. Louis Cardinals in Cincinnati. [Photo/Agencies]
CINCINNATI, Ohio - Cleats, pants, jersey, hat.
Scooter Gennett peeled off his uniform - the one still dripping from a douse of celebratory ice water - and handed every piece to the clubhouse manager.
All of them are headed to the Baseball Hall of Fame in Cooperstown, New York.
The diminutive Cincinnati native put on the greatest home run show in franchise history on Tuesday night by tying the MLB record with four round-trippers - becoming the 17th player to accomplish the feat - and matching the club mark of 10 RBIs in a 13-1 pasting of the St. Louis Cardinals.
Gennett became the seventh player to hit homers in four consecutive at-bats during a game, joining American Leaguers Carlos Delgado, Mike Cameron, Rocky Colavito and Lou Gehrig along with National Leaguers Mike Schmidt and Robert Lowe.
Reds history is filled with legendary home-run sluggers - Ted Kluszewski, Johnny Bench, Tony Perez, Ken Griffey - but none of them ever hit four in a game.
They can all scooter on down the list.
"It's surreal, man. It really is," Gennett said, wearing a backup set of clothes after the others were whisked away.
"I'm truly blessed. I'm from here, born and raised here. Watching all those guys play when I was little and to do something that's never been done - I can't put words on it."
He wasn't the only one nearly speechless.
No major leaguer had ever had five hits, four homers and 10 RBIs in a game. Gennett's 17 total bases also were a team record.
"He had a career night, a great night," said Adam Wainwright, who gave up Gennett's second career grand slam. "Guys do that now and then. He beat us all by himself tonight."
Gennett was the most unlikely player on the roster to turn into a historic slugger.
The 5-foot-10, 185-pound infielder was claimed off waivers from Milwaukee late in spring training for a utility role. He had just 38 career homers heading into the game, and has managed double-digit dingers just once in his five MLB seasons.
Four in one night? Unthinkable.
Josh Hamilton was the most recent player to hit four homers in one game, for Texas against Baltimore in May 2012. The last NL hitter to do it was Shawn Green for the Los Angeles Dodgers against Milwaukee in 2002.
The 27-year-old Gennett singled his first time up and then homered in four straight at-bats, joining the Cardinals' Mark Whiten as the only players with a grand slam among four homers in a game.
Whiten did it in 1993 at the Reds' old riverfront ballpark, driving in an MLB-record 12 runs.
"It's amazing, especially since Scooter is not an everyday player for us," manager Bryan Price said. "He's got power, but four homers in one game? I don't know what to tell you. It's very emotional. It was an honor to witness that."
Gennett's grand slam was the first Wainwright had allowed since 2012. Gennett then connected for a solo shot and a two-run homer off John Gant.
Associated Press
Most Popular
Highlights
What's Hot