Corporate debt level 'is too high'
A senior lawmaker has made it clear that China's debt is under control.
But Wu Xiaoling, deputy director of the Financial and Economic Affairs Committee of the National People's Congress, said it was urgent to address the red ink being built up by the companies.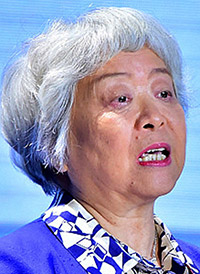 Wu Xiaoling, deputy director of the Financial and Economic Affairs Committee of the NPC. [Photo provided to China Daily]
"The government is pushing forward with the reduction of overcapacity, destocking and deleveraging, but it does not mean that we will decrease the leverage ratio to zero," said Wu, who is also the dean of the PBC School of Finance at Tsinghua University.
Overall debt in the economy is acceptable and described by Wu as "moderate".
"The overall leverage ratio is moderate and controllable," she said. "But its structure should be adjusted immediately as Chinese enterprises' leverage ratio is too high to improve economic efficiency."
The debt-to-asset ratio of major industrial companies was 56.2 percent by the end of March, down 0.7 of a percentage point compared with the same period last year.
According to Wu, asset management companies should be encouraged to take part in helping debt reorganization at companies.
"Mergers and acquisitions can optimize enterprise structures," said Wu.
Zhu Ning, a finance professor at Tsinghua University, said the technology, high-end manufacturing and healthcare industries were popular in the mergers and acquisitions sector.
"There are also a lot of M&A opportunities in fields related to State-owned enterprise reform," added Zhu.
Chen Yulu, deputy governor of the People's Bank of China, said at the weekend that the central bank will make sure financial institutions support the real economy while boosting direct financing and cutting funding costs.