Single mom to make traditional handicrafts popular tourism items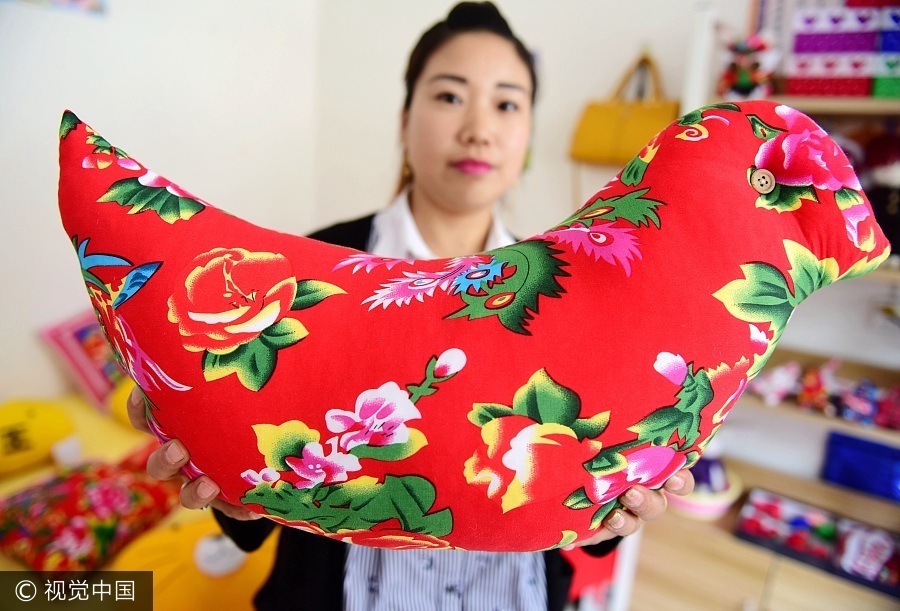 Jiang Qiuju, a single mother-of-two, showcases an innovative hand-made item at Shiku village, in Hongtu township of Enshi city, Enshi Tujia and Miao autonomous prefecture, Central China's Hubei province, on May 30. [Photo/VCG]
Jiang Qiuju, born in 1983, likes to make handicrafts in her spare time. The single mother-of-two has a few innovative ideas each time she sits down to get creative, and makes everything from rag dolls to pillows and towel boxes.
While Jiang is very skilled in knowing how to make the traditional art pieces, she does not have any experience in selling. However, even though she lacks this skill, Jiang attended a local tourism exhibition event last year to give it her best shot. Jiang said she did not expect too much in selling her items, as it was her first time.
To her surprise, Jiang's handicrafts sold out in about a minute, and she took home 1,000 yuan ($147.29) in profit on the day.
"There are so many interesting traditional handicrafts to be made," she said.
"You can make cotton shoes, cloth shoes with a thousand different layers of soles, handmade insole and cross stitching from the mountainous areas of ethnic groups. "
"I think if I combine these together, in order to sell outside of mountainous areas, it would help contribute to local tourism products and potentially motivate other women to make traditional handicrafts."