Li and Merkel: friendship behind the China-Germany economic 'dream team'
Editor's note:
Premier Li Keqiang arrived in Berlin on May 31, starting a two-day visit highlighting cooperation on innovation. In a phone call with Merkel earlier this year, Li called for the two countries to play a leading role in ensuring international markets don't become unsettled. Germany is China's largest trading partner in the European Union and the two leaders are well known for their comprehensive talks on economic and trade issues, in formal meetings and on the sidelines of negotiations. Here's a look back at their meetings on trade, goods and services.
Premier Li in Germany
May-June 2017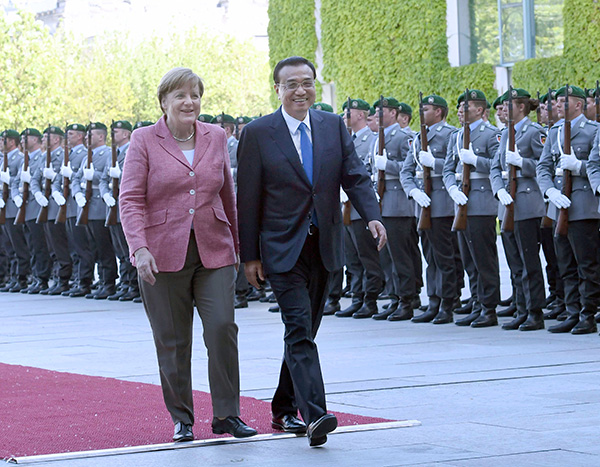 Premier Li Keqiang attends a welcome ceremony held by German Chancellor Angela Merkel before an annual meeting between Chinese and German heads of government in Berlin, Germany, May 31, 2017. [Photo/Xinhua]
Li and German Chancellor Angela Merkel held the two nations' yearly prime ministers meeting on May 31, with innovation high on the agenda.
On his arrival, Li said his visit is meant to build on the Sino-German friendship, and to promote innovation while enhancing cooperation between the two countries.
Premier Li Keqiang pledged China's willingness to work with other economies to promote the global economic governance for a strong, sustainable and balanced world economic growth.
Li reiterated China's support for the European integration process. As a comprehensive strategic partner of the European Union (EU), China is ready to see a solidary, prosperous and stable Europe as it will be conducive to the world multipolarization and economic globalization, Li told German Chancellor Angela Merkel in Berlin.
The Premier called for joint efforts to promote trade liberalization and investment facilitation during his visit to Germany.
Li also called on Germany to help China-developed large passenger plane C919 get an airworthiness certificate from the European Union on the same day.