12 killed and 6 assailants shot dead in Iran shooting attacks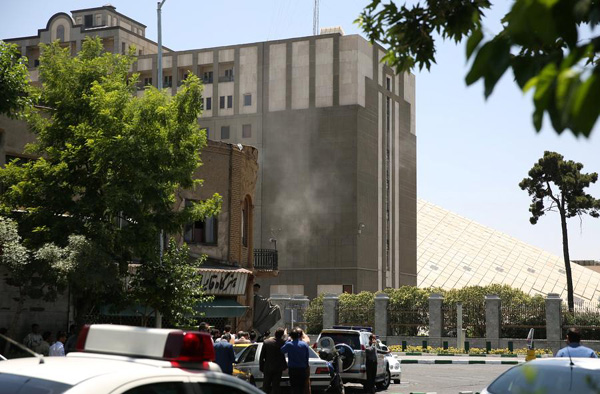 Smoke is seen during a gunmen attack at the parliament's building in central Tehran, Iran, June 7, 2017. [Photo/Agencies]
TEHRAN - At least 12 people died in the twin attacks by militants against Iran's parliament and Imam Khomeini Shrine in capital Tehran on Wednesday, Iran's Interior Ministry said in a statement.
According to semi-official ISNA news agency, an additional 42 people were injured in the terrorist attacks, the Interior Ministry statement was cited as reading.
In the meantime, all four assailants against the parliament and two against the Khomeini Shrine were killed, reported ISNA quoting an unidentified source as saying.
One of the attackers on the parliament blasted his explosive belt and three others were shot dead by the security forces.
Also, out of three attackers on Khomeini Shrine, one blasted his explosive belt after shooting, the other was shot dead by the security guards and the third one, a young woman, was arrested after sustaining injuries, IRIB TV said.
Iran's Intelligence Ministry on Wednesday said in a statement that another terrorist team was busted before doing any operation in Tehran.
Besides, the security deputy of Iran's Interior Ministry said that the terrorists had entered the parliament building in the women attire, according to official IRNA news agency.
However, after their incursion into the building, the security forces brought the situation under control and the terrorists had to flee to the upper floors of the building without doing any harm on the lawmakers, Hossein Zolfeghari was quoted as saying.
The twin attacks were simultaneously carried out in Tehran at around 10:30 am local time (0600 GMT).
According to the reports, the Islamic State (IS) has claimed responsibility for the attacks.