Trump offers to help resolve rift between Qatar, Gulf nations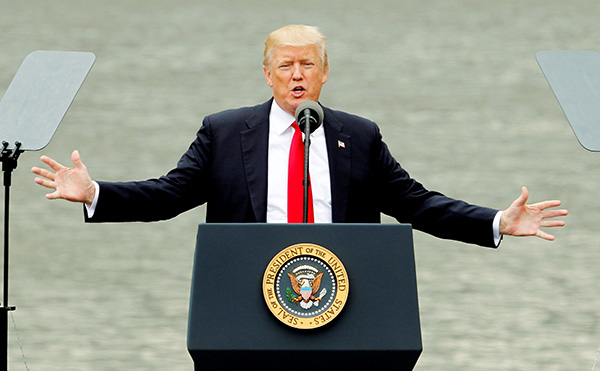 File photo shows US President Donald Trump announces his $1 trillion infrastructure plan to the crowd during a rally along side the Ohio River at the Rivertown Marina in Cincinnati, Ohio, US, June 7, 2017. [Photo/Agencies]
WASHINGTON - US President Donald Trump offered to help Qatar and the other Gulf nations resolve their differences, including through a meeting at the White House if necessary, the White House said Wednesday.
In a telephone conversation with Amir Sheikh Tamim bin Hamad Al Thani of Qatar, Trump reiterated that a united Gulf Cooperation Council and a strong United States-Gulf Cooperation Council partnership are critical to defeating terrorism and promoting regional stability.
He also emphasized the importance of all countries in the region to work together to prevent the financing of terrorist organizations and stop the promotion of extremist ideology, according to a White House statement.
The telephone talk came after a diplomatic row erupted between Qatar and the other Gulf nations. Saudi Arabia, Bahrain, the United Arab Emirates (UAE) and Egypt have cut off diplomatic relations with Qatar, accusing it of supporting terrorism. But Qatar has rejected the accusations as "unjustified" and "baseless."
On Tuesday, Trump seemed to claim credit for Gulf nations' decision to isolate Qatar, saying his recent visit to Saudi Arabia was "already paying off."
"They said they would take a hard line on funding extremism, and all reference was pointing to Qatar. Perhaps this will be the beginning of the end to the horror of terrorism!" Trump said on Twitter.
White House spokesman Sean Spicer told a regular press briefing on Tuesday that the US wants to see the diplomatic row between Qatar and the other Gulf nations "deescalated and resolved immediately."