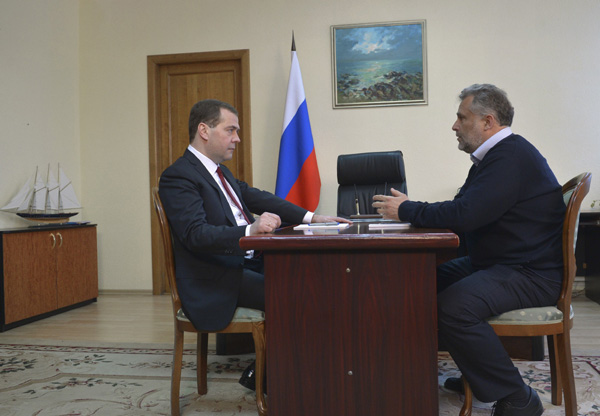 Russia's Prime Minister Dmitry Medvedev (L) meets Sevastopol Mayor Alexei Chaliy in Sevastopol, March 31, 2014. [Photo/Agencies]
SIMFEROPOL - Russian Prime Minister Dmitry Medvedev arrived in Crimea on Monday with several members of his government on the highest level visit to the Black Sea peninsula since its annexation by Moscow earlier this month.
"(I'm) in Simferopol," Medvedev said on Twitter after his plane landed in the main city in the region. "Today the government will discuss the development of Crimea here."
Medvedev is in Crimea for talks with the region's leaders on economic and social development, local media reported.
The visit came two weeks after Russian President Vladimir Putin and Crimean leaders signed a treaty to make Crimea part of Russia.
The agreement followed a referendum on March 16 in which 96.77 percent of Crimean voters chose to join Russia.
Ukraine does not accept Crimea's accession into Russia, considering it an "attempt to annex the Ukrainian territory."