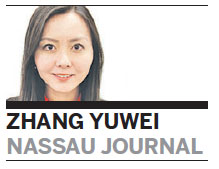 Jamie Lewis, owner of Islandz Tours, a local tourism agency in Nassau, the capital of the Bahamas - an island country located in the Atlantic Ocean just east of Florida - will bring his business to China next month.
"It's a trade show I will attend in Hong Kong," said Lewis, 31, as he showed me an iPhone 5 case at a store in Lynden Pindling International Airport, where he sells smartphone accessories as part of his business.
Lewis hopes to connect to people at the trade show and get his products manufactured in China and sell them in the Bahamas.
Nassau, located on the island of New Providence, one of the 700 islands of the Bahamas, was featured as a location in several Hollywood movies including more than one James Bond features.
But these days, a most-talked about topic is China.
The China theme starts right when you get out of the airport. The new Nassau Airport Gateway, a four-lane carriageway that connects the airport to the city center, was funded by the China Export-Import Bank and built by China Construction America Inc, the North American subsidiary of China State Construction and Engineering Corporation.
After a 12-minute ride, it takes you to the Baha Mar - a world-class resort currently under construction. Blue signs on the front of the resort buildings - consisting of four luxury hotels - read: "Opening December 2014" in both English and Chinese.
It has been the popular topic in Nassau.
"Yes, of course, I know of the Baha Mar project," Lewis said. "Anytime you have a project of this magnitude and scale, the ramifications will be widely felt throughout the Bahamas."
Baha Mar - a total of 3.3 million square feet - will feature a collection of hotel brands with gaming, entertainment, private residences, shopping and art galleries. The $3.5 billion resort, with $2.45 billion financed by the Export-Import Bank of China, is currently the largest project under development in the Western Hemisphere.
China Construction America Inc, the general contractor of this project, also invested $150 million in this mega project.
"We want to bring the lessons we have built up in the US market to this project - it's a new experiment, it's innovation in our industry," said Yuan Ning, president of CCA, who oversees the project and visits from New Jersey, where he is based, about once a month.
"It's something very different from most projects we did before," said David Wang, vice-president for CCA's Bahamas project. Wang, who has been stationed on this site for more than four years, says the project is a good showcase for a new phase of the Chinese construction industry, where construction workers are not only focused on the labor side but are more involved in a system where they live a balanced life.
The site offers dorms for some 2,300 workers. "One-third of them even have their own laptops," said Li Jun, another vice-president who deals with administration and human resources for the project.
The project currently has about 3,000 workers coming from almost 20 countries, said Wang. "It's a very multicultural team here," he added.
Trvayne Binder is one of the several hundred workers from Nassau. "It's been really nice, everyone is hardworking and we are a team to get the work done here," said Binder. "The economy has been low and it was the only opening I got five months ago," he said as he moved ahead to unload stuff from the tower crane, one of the four heavy machines shipped from China to the site.
Sarkis Izmirlian, chairman and CEO of Baha Mar, said when the resort is in full operation, it will potentially create up to 10,000 local jobs, which will contribute about 12 percent of Bahamas GDP.
"This partnership is going to have a huge, long-term impact on the Bahamas and the Bahamian people recognize it and appreciate it," said Izmirlian.
In December, the Bahamas and China signed an agreement to have reciprocal visa waivers, which will allow mutual 30-day access to Bahamian and Chinese passport holders without requiring a visa. This potentially will bring business not only to the resort but also to the whole island.
Lewis, who's heading to China for the trade show, benefits from this agreement. He is one of those who follow closely the progress of the Baha Mar project.
"It's encouraging to see that Chinese people have been embraced by the Bahamians and it's very much seen as helping develop this main project which is going to lead to tremendous jobs and economic activities throughout the Bahamas," Lewis said.
Contact the writer at yuweizhang@chinadailyusa.com.
(China Daily USA 03/24/2014 page2)