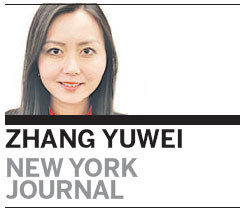 During the Chinese New Year holiday last month, some 3.6 billion trips were made by different means of transportation - trains, planes, buses and cars - as people moved around China to reunite with families for the most important holiday of the year.
The volume of the Spring Festival season travel - or the chunyun period - increased by some 200 million over last year. With the growing pace of urbanization in the world's second-largest economy, this number will continue to rise.
Urban residents in China will increase by 268 million between 2010 and 2030 - a rise that is likely to represent around one-fifth of global urban population growth over that period, according to a new report by the Economist Intelligence Unit (EIU).
For the past three decades, hundreds of millions of people have moved into cities for better wage opportunities. The EIU predicts that this trend will continue in the next 20 years, as China will remain the main force driving global urbanization.
As much as it can bring obvious opportunities, urbanization also creates potential challenges.
Victoria Lai, an analyst with the EIU in New York, predicts that planning will be a very difficult task.
Lai said while the Chinese government wants to avoid uncontrolled urban sprawl and the development of slums, its approach of actively promoting growth in small- and medium-sized cities may backfire if it pours resources into areas that may not attract many migrants, leading to waste.
"This approach also risks underfunding larger cities that will see rapid population gains," Lai noted.
The fast pace of urbanization can put a lot of strain on the "already stretched social infrastructure", she said, adding that healthcare and education in big - and even rich - cities will face the problems as more cities expand in size.
More than half of China's population of 1.3 billion lives in urban areas, while the latest count of migrant workers is 260 million, according to official statistics.
The Chinese government recently released a new plan aimed at achieving a better quality of urbanization, including reform of hukou, or the household registration system.
"There's been little progress in meaningfully loosening hukou restrictions in cities where people are actually moving. If there isn't any reform in this regard, these new urban residents will continue to save most of their wages, which will impede the government's goal of creating a larger consuming class," Lai noted.
An urban hukou brings at least 60 kinds of social welfare unavailable to rural residents or migrant workers, according to Gu Shengzu, an economist and a deputy to the National People's Congress, China's top legislative body.
During the recent Two Sessions in Beijing, Gu said that China's fast urbanization was focused on material development or physical constructions, rather than people. It has resulted in, he added, a new category of people besides the urban and rural population, namely migrant workers or semi-urbanized farmers.
China's urbanization is something foreign businesses are watching closely as they expand in the world's No 2 economy. The number of foreign-funded companies in China reached 440,900 by last September.
Still, urbanization presents pros and cons for foreign firms.
"The pace presents huge opportunities for foreign firms, but they will need to plan well," said Lai.
"Logistics infrastructure is improving rapidly as transport links between cities grow stronger, for example, which is making it easier to make product deliveries. This in turn is generating greater consumer demand. You can really see this in the boom in e-commerce," she said.
The cities that international firms should be watching closely are those with favorable demographic trends, coupled with strong growth in incomes, said Lai.
"This applies to both firms producing in China and firms selling in China, as these cities will have larger, younger labor pools, and as time goes on, more spending power," she noted.
The EIU projections raise questions about the development prospects for northeastern and western China, where the risk of over-investment, particularly in real estate, runs high, given the less promising demographic outlook in both regions.
Lai said that cities with a less-than-rosy demographic outlook should consider whether it is worth it to invest money in projects like industrial parks and grand housing developments when demographic trends indicate that the city just simply won't be seeing much growth in its urban population.
Market forces should be allowed to take the lead in this regard, she added, otherwise massive waste will be the result.
"For these cities, investing in better educational facilities or environmental protection may help, as that may allow them to be a stronger draw for higher-skilled labor, but there are no guarantees," Lai said.
Contact the writer at yuweizhang@chinadailyusa.com.
(China Daily USA 03/20/2014 page2)