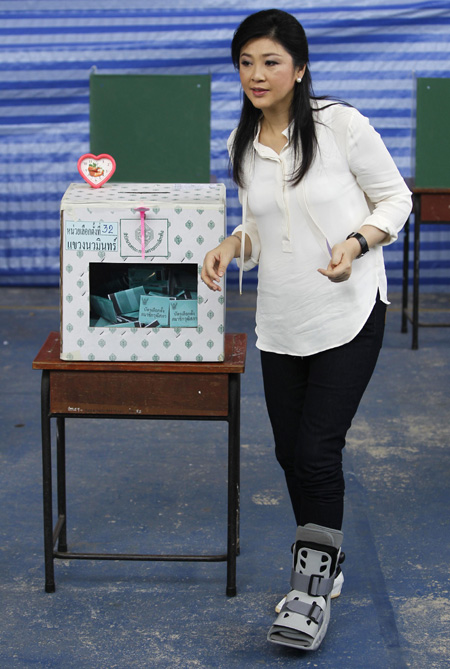 Thai Prime Minister Yingluck Shinawatra walks at a polling station after casting her ballot in Bangkok March 30, 2014. [Photo/Agencies]
Thais voted on Sunday for half of the country's 150-seat Senate in a key test for Yingluck Shinawatra's troubled government, a day before the prime minister is due to defend herself against negligence charges over a disastrous rice subsidy project.
Anti-government protesters are in their fifth month of a campaign to force Yingluck out and set in motion political and electoral reforms before a new general election takes place.
Yingluck's opponents want impeachment charges brought against her over the government's financially ruinous rice subsidy project. A Senate dominated by anti-government politicians could hasten her exit.
Thailand's 150-seat Senate is made up of 77 elected senators. The other 73 seats are appointed and seen as allied to the anti-Thaksin establishment.
The election is expected to fill the seats of elected senators, whose six-year terms will expire on Monday.
Anti-government forces want to ensure a conservative, pro-establishment majority to influence any decision to remove Yingluck, which would require the votes of three-fifths of the senators.
Yingluck is due to appear before the National Anti-Corruption Commission on Monday to defend herself against charges of dereliction of duty for her role in overseeing the botched rice subsidy project.
While party affiliation is prohibited in the nonpartisan Senate, the majority of the 77 elected seats will be decided on the basis of endorsements from powerful, party-affiliated local institutions, particularly in rural areas, meaning that the result could deliver a pro-Yingluck majority.
"The Senate vote is likely to deliver a result similar to the nullified Feb 2 election for the lower house, meaning it will be pro-government," said political analyst Kan Yuenyong at Siam Intelligence Unit.