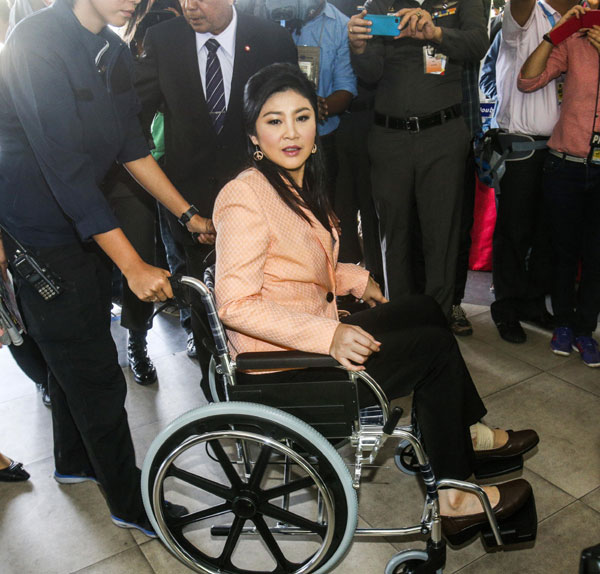 Thailand's Prime Minister Yingluck Shinawatra arrives on a wheelchair at the Royal Police Cadet Academy in Nakorn Pathom province, March 18, 2014.[Photo/Agencies]
BANGKOK - The Thai caretaker cabinet on Tuesday decided to revoke the emergency decree now imposed in Bangkok and adjacent provinces, effective on Wednesday.
The decree will then by replaced by the less stringent Internal Security Act (ISA), which will be enforced from Wednesday to April 30, Prime Minister's Secretary General Suranand Vejjajiva said after a cabinet meeting.
The ISA will be used to maintain law and order during the senatorial election on March 30 and reruns of the Feb. 2 general election slated for April, Suranand said.
The Center for Maintaining Peace and Order, currently in charge of enforcing the emergency decree, will change into a new one with a similar structure to implement the ISA.
The decree has been effective since Jan. 22 in Nonthaburi province, Patumthani province, part of Samut Prakarn province and all districts of the capital to cope with prolonged anti- government protests vulnerable to violence and bloodshed. It was initially meant to expire on March 22.
The decision is made amid mounting pressure from business organizations who have suffered losses under the state of emergency and easing political tension on the street.
An earlier Civil Court ruling also limited the powers of the caretaker government under the emergency decree, banning it from using force to crack down on protests.