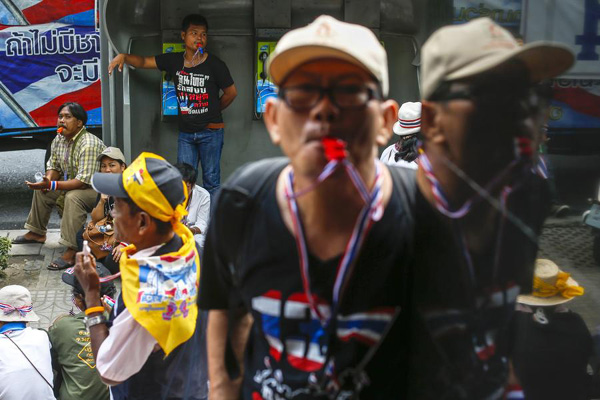 Anti-government protesters gather during a rally at the Shinawatra building in central Bangkok March 7, 2014. [Photo/Agencies]
BANGKOK - Two people were wounded in a shooting on Friday at the central Bangkok site of anti-government protests, hours before Thai government officials were due to decide whether to maintain a state of emergency that business leaders want lifted.
The protests aimed at bringing down Prime Minister Yingluck Shinawatra have been going on for four months and are taking a toll on the economy, with consumer confidence at a 12-year low.
The protesters have scaled back action over the past week, lifting the occupation of several main intersections, but several thousand of them are camping out in Bangkok's Lumpini Park, where shooting erupted in the early hours.
"We don't know who did it or where the shots came from in Lumpini Park but they went out and hit a taxi driver," police officer Chaiya Kongsup told Reuters.
A woman was hit and slightly wounded as well as the taxi driver. "There were no witnesses," Chaiya said.
Twenty-three people have been killed, most of them in shootings and grenade blasts, since late November.
The protests are the latest bout of nearly a decade of political conflict that has set the Bangkok-based royalist establishment against the political machine of Yingluck's brother, former premier Thaksin Shinawatra.
Former telecoms tycoon Thaksin was ousted in a 2006 coup and has been in self-imposed exile since 2008 to avoid a two-year jail term for a graft conviction he says was politically motivated. He is widely seen as the influence behind Yingluck's government.
The main opposition party boycotted a Feb. 2 election and protesters disrupted polls Yingluck's ruling party looked set to win. The protesters have lost faith in elections, which Thaksin's parties keep winning, and want to change the political system to end his influence.