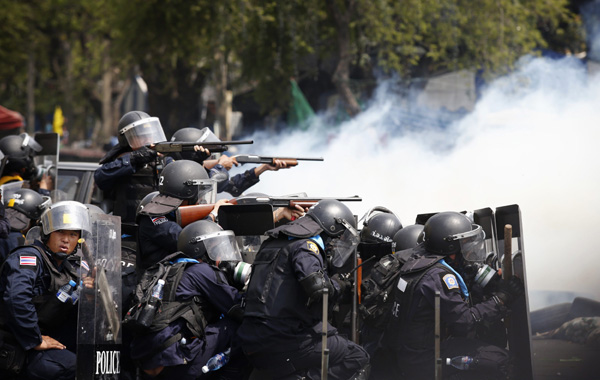 Thai policemen aim their weapons towards anti-government protesters during clashes near Government House in Bangkok February 18, 2014. [Photo/Agencies]
BANGKOK - A male protester aged 52 was killed by gunfire in street clashes in the Thai capital on Tuesday, the Erawan Medical Center, which monitors city hospitals, said on its website.
The protester was the second person killed in violence that erupted as authorities launched an operation to clear anti-government demonstrators from streets in the centre of Bangkok. Police earlier said a police officer had been killed.
Dozens of police and anti-government protesters were wounded in gun battles and clashes.
Violence erupted as the authorities launched their most determined effort yet to clear demonstrators from sites around state offices in the capital, where anti-government rallies have been taking place since November.
"One policeman has died and 14 police were injured," national police chief Adul Saengsingkaew said. "The policeman ... died while being sent to hospital. He was shot in the head."
Gunfire were heard and police firing weapons were seen in the area around Phanfa Bridge in the old quarter of the city. Security officials said that four police officers had been wounded by bomb shrapnel.
The protesters have been rallying since November to try to oust Prime Minister Yingluck Shinawatra, whom they view as a proxy for her elder brother, Thaksin Shinawatra, a former premier and telecoms tycoon toppled in a military coup in 2006.
Data published on Monday showed growth slowed sharply in the fourth quarter of 2013 as the protests took their toll on the economy, and the baht currency weakened after Tuesday's violence.
The protests are the latest instalment of an eight-year political battle broadly pitting the Bangkok middle class and royalist establishment against the poorer, mostly rural supporters of Yingluck and her billionaire brother Thaksin.
Demonstrators accuse Thaksin of nepotism and corruption and say he used taxpayers' money for populist subsidies and easy loans that have bought him the loyalty of millions in the populous north and northeast.
The government's opponents want to suspend what they say is a fragile democracy in the control of Thaksin and eradicate his influence by altering electoral arrangements in ways they have not spelt out.
Security officials said 15,000 officers were involved in an operation, called the "Peace for Bangkok Mission", to reclaim protest sites around government offices in the centre and north of the capital.