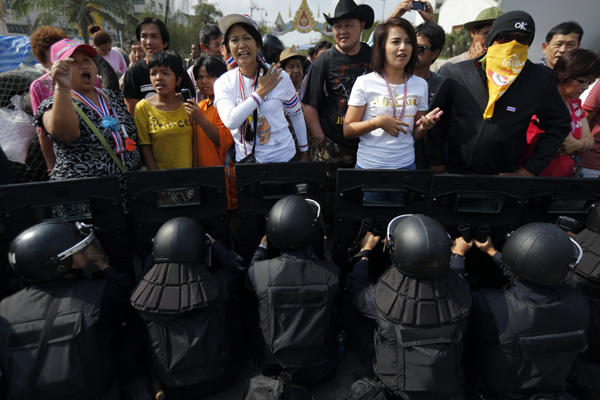 Anti-government protesters confront riot police at one of the barricades near the Government House in central Bangkok February 14, 2014. Thousands of Thai riot police were deployed on Friday to seize back protest sites around government buildings in Bangkok that have been occupied for months by demonstrators seeking to topple Prime Minister Yingluck Shinawatra. [Photo/Agencies]
BANGKOK - Two people were slightly injured after a giant firecracker exploded near Makkhawan Rangsan bridge in Thai capital Bangkok as police on Friday morning started to retake a couple of rally sites in the city.
Two injuries included one female protester and a reporter of local newspaper Siam Rath when a sound of explosion was heard at 11:10 am Friday morning, reported the Nation newspaper.
Police forces, armed with shield, were deployed to the sites of protesters in Bangkok Friday morning. They started removing the first line of barriers and sandbags set up by protesters from 8:26 am local time, and then demolished tents of the protesters on the Rajdamnoen Road on the Makkhawan Bridge.
Police are withdrawing from Chaeng Wattana Road and decided not to retake a rally site controlled by monk Luang Pu Budda Issara. The protest monk's rally site is preventing officials from entering the government complex.
Around 500 police officers in body armors and helmets arrived in vans at a rally site near the Government Complex at around 9:30 am local time, forming a standoff with protesters encamped there.
The police marched slowly towards protesters while holding shields in front of them, and protesters whistled and yelled back at the police, urging them to step back.
A man was later detained by the police, whose identity is yet to be disclosed.
A leading police officer kept talking to the protesters using a loud speaker, asking them to calm down and reassuring them the police would exercise restraint with no intention to hurt them.
The streets were cleared, and what remained left were only police vans and press photographers. A flower store by the roadside provided shelter for several pedestrians.
The 50-year-old owner, who is opposed to the caretaker government herself, served water and fruit to these pedestrians and told them not to go out to avoid confrontation with the police.
"We Thais are nice people, but the police are not," she said.
The owner closed the store temporarily, but did not cancel the delivery of booked flowers.
At around 11:30 am, the police began to retreat, and the spokesman claimed they would come back on Saturday.
Xinhua reporters at another rally site near the Government House saw the police remain in a standoff with the protesters.
Secretary-general of the National Security Council of Thailand Paradorn Pattanatbut earlier said the government would enforce the law to reclaim some of the rally sites not being used by protesters to facilitate the traffic.
But no force would be used, Paradorn added.
On Friday morning, caretaker Prime Minister Yingluck Shinawatra traveled to central Ayutthaya province to pay respect at a temple to mark the traditional Buddhist holiday Maka Bucha Day, and she received moral support from scores of people.
Protest leader Suthep Thaugsuban earlier called major rallies from Friday to Sunday at all rally sites to oust Yingluck, including a Valentine's Day-themed rally featuring music and dancing on Friday.
It is reported that protesters started to decorate rally stages with roses and ornaments from the morning.