Mine strike hits S. African economy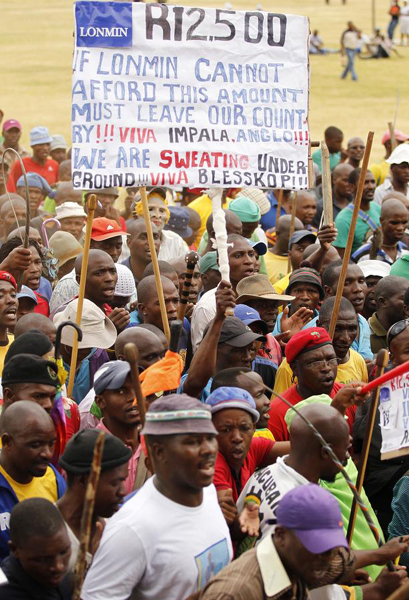 Miners gather at Wonderkop stadium outside the Lonmin mine in Rustenburg, northwest of Johannesburg, in this Jan 30, 2014 file photo. As South Africa's biggest post-apartheid mine strike marks its eighth week on Thursday, it is already denting growth and export earnings, and many of those affected are having to sell their most prized possessions to make ends meet. [Photo/Agencies]
RUSTENBURG, South Africa - As South Africa's biggest post-apartheid mine strike marks its eighth week on Thursday, it is already denting growth and export earnings, and many of those affected are having to sell their most prized possessions to make ends meet.
In an informal bar near the platinum belt city of Rustenburg, striking miner Oupa Majodina holds up his cell phone to show a photo of his pride and joy: his cattle.
"I own 11, but I will have to sell some of them. What can I do? I need the cash," he said glumly as he nursed a beer.
No talks are scheduled between the two sides to the strike, the Association of Mineworkers and Construction Union (AMCU) and the world's top platinum producers, Anglo American Platinum, Impala Platinum and Lonmin, and they remain poles apart on the issue of wages.
That means the misery will only spread, making an even bigger headache for President Jacob Zuma and the ruling African National Congress on the run-in to May 7 general elections.
The strike has hit about 40 percent of global production of the precious metal, which is used for catalytic converters in vehicles and is a key source of hard currency for South Africa.
The companies have lost revenues of 9.2 billion rand ($850 million) and counting, according to an industry website that updates the losses like a Doomsday clock.
"You will need to take that 9 billion rand out of the current account because it is almost all from exports," said Mike Schussler, who runs economics consultancy economists.co.za.
This current account deficit is already a key weakness in South Africa's economy, putting its rand currency under pressure. It grew in 2013 to 5.8 percent of gross domestic product, its widest since 2008.
A wave of violent, wildcat strikes that erupted periodically in 2012, rooted in a turf war between AMCU and the National Union of Mineworkers, cost platinum and gold producers over 16 billion rand that year, when the current account gap was 5.2 percent of GDP.
With no resolution in sight, the cost of the present strike may exceed that, and the losses will continue to mount after it is over, as operations will take a long time to get back to full production. Job losses and shaft closures look highly likely.