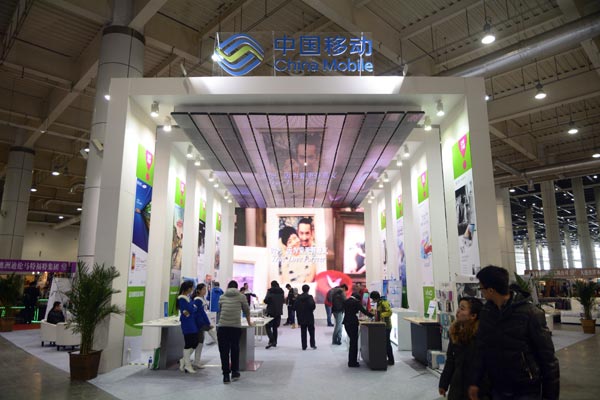 China Mobile Ltd's booth at the 3-15 International Consumer Goods Exhibition in Dalian on March 13. Provided to China Daily
China Mobile Ltd, the world's largest telecom carrier by subscribers, experienced its first annual net profit decline in more than a decade after the company invested heavily in mobile network projects and was put under pressure by Internet companies.
At a news conference in Hong Kong on Thursday, China Mobile said its revenue reached 630 billion yuan ($101 billion) in 2013, up 8.3 percent year on year.
But the company's net income was dragged down by a disappointing second half; it fell by 5.9 percent from the previous year to 121.7 billion yuan.
China Mobile's shares on the Hong Kong stock exchange dropped by 3.6 percent to HK$67 ($8.63) per share at the market's close on Thursday. During the day, the company's stock was traded at HK$66.55 per share, its lowest point in five years.
China Mobile's profit growth rate has fluctuated greatly in the past decade. The Chinese telecom operator enjoyed double-digit growth in terms of net income between 2004 and 2008, thanks to major expansions to the country's vast rural areas.
In 2007, China Mobile recorded its highest annual net profit growth rate of 32 percent.