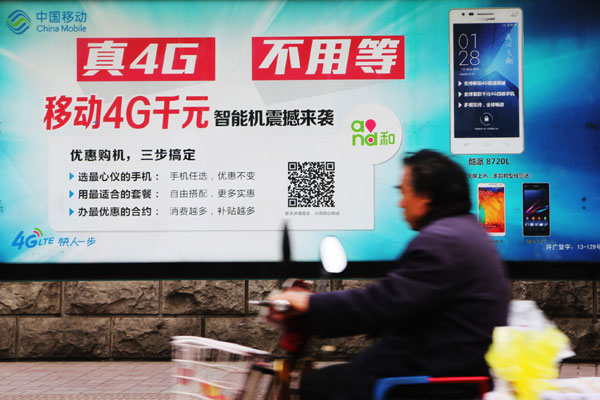 A China Mobile Corp advertisement in Xuchang, Henan province. Geng Guoqing / for China Daily 
CEO hopes to boost firm's profits by tapping overseas 4G markets
China Mobile Ltd is actively seeking opportunities to take its fourth-generation telecommunication technology abroad, a powerful entrance for the world's biggest carrier onto the global stage, a company executive said on Tuesday.
China Mobile Chairman Xi Guohua said exploring foreign markets not only meets the national call but also will boost the company's international profits.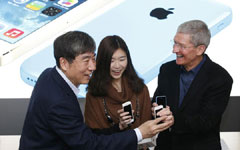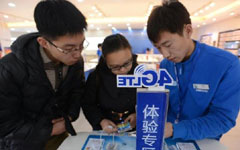 4G's high cost has mainland buyers balking 
"The company has been lagging behind in developing overseas markets. We are looking to expand our 4G business outside China by means of investment and acquisitions," Xi told China Daily during a break in a meeting of the National Committee of the Chinese People's Consultative Conference.
He declined to identify any potential merger targets.
Last December, Beijing-based China Mobile became the first carrier to launch 4G Time Division-Long Term Evolution service in the country.
TD-LTE technology was developed by several multinationals and mainly supported by Chinese enterprises since its launch.
China Mobile currently has about 200,000 4G TD-LTE base stations in China's larger cities and economically developed regions in coastal provinces. The total number is on track to hit 500,000 by the end of this year.
In January, the company persuaded Apple Inc to make iPhones compatible with TD-LTE networks. The long-discussed partnership indicates that mainstream hardware manufacturers are accepting the China-backed telecom system.
China Mobile is hoping to sell 200 million TD-LTE powered devices - including iPhones - in China this year, said Xi.
The nation will have 30 million to 60 million 4G users by 2014, according to the China Academy of Telecommunication Research, a government think tank.
A more internationally recognized 4G standard fits Chinese companies' interests and also will help China become a rule maker in the future, analysts said.