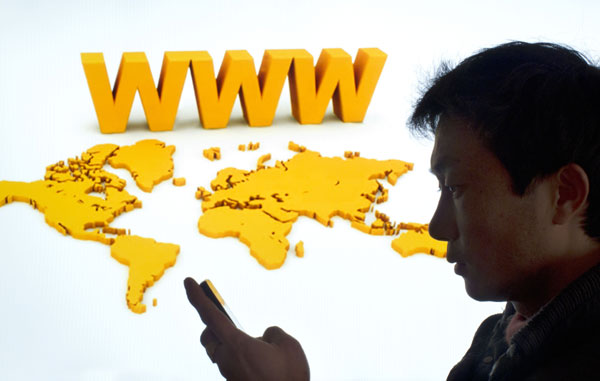 A man standing in front of an Internet navigating advertisement. He is reading online information through his smartphone. [Photo/China Daily] 
BARCELONA - China offers magnificent opportunities in the mobile advertising sector, said a study published by multinational professional services firm PwC on Monday.
The study into the marketing trends in the United States, Britain, Brazil and China, found that the Chinese are far more open than inhabitants of the other three countries to receiving advertisements and publicity on their mobiles.
"China proposes some interesting, unique and robust opportunities for the advertiser," Deborah Bothum, the PwC's US Advisory Leader for Entertainment, Media and Communications, told Xinhua, at the Mobile World Congress, which opened here Monday.
She said the Chinese people are "open to receiving offers."
Mobile advertising has been a topic for around 10 years, but still requires studies of behavior regarding mobile and tablet usage, Bothum added.
What appears clear is that mobile users want to receive offers which are relevant to their lifestyles and hobbies, Deborah said.
One reason China offers such opportunities is that the Chinese are more likely to use their mobile phones to make purchases than anyone else, according to analysts.
Mobile phone use in China has grown rapidly alongside the country's rise as a consumer economy over the years, whereas in Britain and the US, consumers had previously been more used to making purchases in person and are less open to using their phone as a tool to make purchases.
Furthermore, people in Britain and the US are also less keen on allowing companies' access to their personal information, making it more difficult to target them with specific advertisements.
Online advertising surges to $11.7 billion