The international team hunting for Malaysia Airlines Flight MH370 in the remote southern Indian Ocean has not turned up anything so far, and Australia's deputy Prime Minister Warren Truss said the suspected debris may have sunk.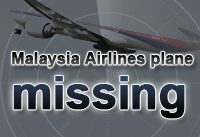 Dimensions of the Boeing 777-200ER
Wing span: 60.9 metres
Overall length: 63.7 metres
Tail height: 18.5 metres
Fuselage diameter: 6.19 metres
"Something that was floating on the sea that long ago may no longer be floating," Truss told reporters in Perth. "It may have slipped to the bottom."
Meanwhile, Chinese icebreaker Xuelong, or Snow Dragon, began its search for the missing plane on Friday.
The Antarctic research vessel, which is anchored at the Australian city of Perth, steered a course toward the southern Indian Ocean, shortly after receiving orders from the State Oceanic Administration of China to join the hunt for possible debris spotted earlier by satellite.
Xuelong's captain, Wang Jianzhong, said 87 crew members will take part in the mission. It would take about four days for the icebreaker to reach the waters about 1,000 nautical miles from Perth.
Meanwhile, three Chinese Air Force planes have been sent to an air base in Malaysia. They will then take off from there bound for Australia, Foreign Ministry spokesman Hong Lei told a press conference on Friday.
Acting on orders from the Central Military Commission, the aircraft, two IL-76 transport planes and a Yun-8 cargo plane, left south China's Sanya airport at about 8 am on Friday, said People's Liberation Army Air Force spokesman Shen Jinke.
The multinational search for the Malaysian flight continued as four aircraft of the Australian Maritime Safety Authority (AMSA) left Perth for the search area, the agency said.
AMSA said a RAAF P3 Orion has left at about 12:45 hours local time and will join two other P3 Orions and an ultra long range Bombadier Global Express jet.
Due to the distance to and from the search area, the planes involved have about two hours of search time, said AMSA.
A US Navy P8 Poseidon plane will head for the search area at about 16:00 hours.