Follow China Daily's live report on the missing Malaysian plane
KUALA LUMPUR, Malaysia - Two men travelling on stolen passports on board a missing Malaysian airliner were Iranians with no apparent links to terror groups, officials say.
Malaysian police named one as Pouria Nour Mohammad Mehrdad, 18, and said he was probably migrating to Germany.
Interpol identified the other as Delavar Seyed Mohammadreza, 29, BBC reported. Both bought their tickets in Thailand and entered Malaysia together.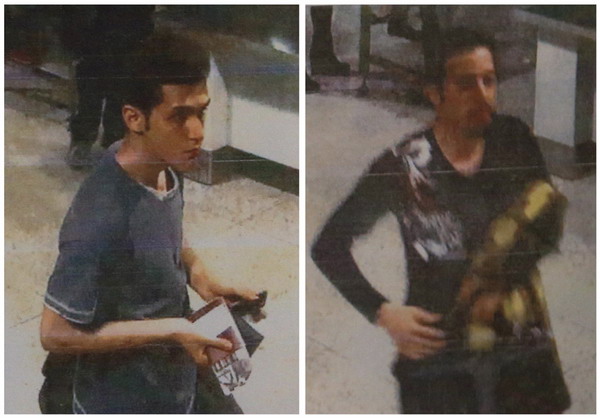 A combination photo shows two men whom police said were travelling on stolen passports onboard the missing Malaysia Airlines MH370 plane, taken before their departure at Kuala Lumpur International Airport in this March 11, 2014 handout courtesy of the Malaysian Police. Malaysian police named one as Pouria Nour Mohammad Mehrdad (L), 18, and said he was probably migrating to Germany. Interpol identified the other as Delavar Seyed Mohammadreza, 29. [Photo by Peng Yining/chinadaily.com.cn]
Stolen passports 'no terror link'

The announcement is likely to dampen, at least for now, speculation that the disappearance of the Boeing 777 was linked to terrorism.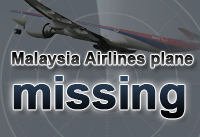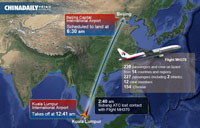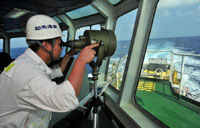 Malaysian police chief Khalid Abu Bakar told a news conference Tuesday that investigators had determined the younger Iranian used a stolen passport in a bid to enter Germany to seek asylum.

"We believe he is not likely to be a member of any terrorist group," Khalid said.

He said the young man's mother was waiting for him in Frankfurt and had been in contact with police. He said she contacted Malaysian authorities to inform them of her concern when her son didn't get in touch with her.

He also said there was no truth to a statement by at least one other government official that five passengers had checked in for the flight but never boarded the airplane.

Without a clue

No debris from the plane has been found. On Tuesday, baffled authorities expanded their search to the opposite side of Malaysia from where it disappeared more than three days ago with 239 people on board.
The airline says the pilots did not send any distress signals, suggesting a sudden and possibly catastrophic incident.

The plane took off from Kuala Lumpur, on the western coast of Malaysia, early Saturday en route to Beijing. It flew across Malaysia into the Gulf of Thailand at 35,000 feet (11,000 meters) and then disappeared from radar screens.

The Malaysian police will focus on four particular areas as they continue their investigations concerning the missing plane, according to Khalid.
The possible scenarios include hijacking, sabotage, and mental problems of a passenger or crew member. And Khalid also said that another scenario involves a passenger destroying the plane and killing himself or herself along with everyone on board so that family members could profit from airline flight insurance.
Search area expands
The hunt began on Saturday near the plane's last known location. But with no debris found there, the search has been systematically expanded to include areas the plane could have reached with the fuel it had on board. That is a vast area in which to locate something as small as a piece of an aircraft.
Malaysia Airlines said search and rescue teams have expanded the scope beyond the flight path to the Straits of Malacca between Malaysia's western coast and Indonesia's Sumatra island _ the opposite side of Malaysia from its last known location.
An earlier statement said the western coast of Malaysia was "now the focus," but the airline subsequently said that phrase was an oversight.
"The search is on both sides," Civil aviation chief Azharuddin Abdul Rahman said.
The search currently includes nine aircraft and 24 ships from nine countries that have been scouring the Gulf of Thailand on the eastern side of Malaysia. Land areas also are being searched.
China, where two-thirds of the passengers are from, urged Malaysian authorities on Tuesday to "speed up the efforts" to find the plane. It has sent four ships, with another four on the way.
A shopping mall in Beijing suspended advertising on its large outdoor LED screen to display a search timer _ an image of an airplane along with a digital clock marking the time since contact with the flight was lost.
Assuming the plane crashed into the ocean or disintegrated in midair, there will likely still be debris floating in the ocean, but it may be widely spread out, and much may have already sunk. In past disasters, it has taken days or longer to find wreckage.
The United States has sent two navy ships, at least one of which is equipped with helicopters, and a Navy P-3C Orion plane with sensors that can detect small debris in the water. It said in a statement that the Malaysian government has done "tremendous job" organizing the land and sea search effort.
Vietnamese planes and ships are also taking part.
Lt. Gen. Vo Van Tuan, deputy chief of staff of the Vietnamese People's Army, said authorities on land had also been ordered to search for the plane, which could have crashed into mountains or uninhabited jungle. He said military units near the border with Laos and Cambodia had been instructed to search their regions also.
"So far we have found no signs ... so we must widen our search," he said.