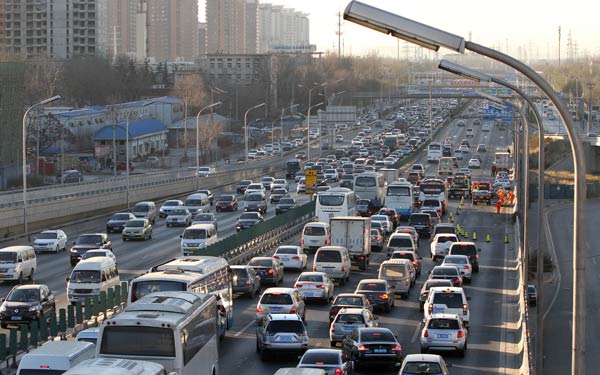 The Fourth Ring Road in Beijing in a morning rush hour. City authorities are working on solutions to ease the pressures on traffic in the city. [Photo/China Daily]
Beijing has preliminarily worked out policies on congestion charge for vehicles, reported National Business Daily on Friday.
Beijing Municipal Environmental Protection Bureau and Beijing Municipal Commission of Transport confirmed that research was conducted to test the policies on Thursday.
The policy has been formulated on a base of the similar experience in Singapore, London and Stockholm.
The congestion charge policy is to discourage the use of vehicles, especially in rush hour and congested traffic, for the purpose of easing the traffic and the environmental pollution due to excess gas emission.
According to data, there are more than 5.6 million cars in Beijing and annual discharge of pollutants is about 700,000 tons, said National Business Daily.
One third of the total emission is the vehicle emission, the biggest cause of local pollutants, According to the analysis on PM2.5 in Beijing in 2014.
Beijing has been bringing up and discussing the congestion charge several times since 2013. Authorities discussed the issue in 2010 and 2013 but did not take action.
Currently, no city in China charges a congestion fee.
Wu Hongyang, deputy chief of urban transportation research center in Ministry of Transport, said once Beijing started carry out congestion charge policy, other cities and regions will follow the example.
The commission of transport for the city announced in Dec, 2015 a series of efforts to ease traffic pressures, including a pilot plan to collect a congestion fee, impose restrictions on the use and purchase of vehicles and to promote environmentally conscious traveling. There are more than 21 million people and 5 million vehicles in Beijing.
The measures will be implemented over the course of the city's five-year plan.