Passengers on board Flight MH370 included a group of 30 Chinese artists, family members and staffers who had attended a three-day painting and calligraphy exhibition at which the artists' work was displayed.
Ma Yong'an, chairman of the Beijing-based China Calligraphy Artists Association, which co-organized the event in Kuala Lumpur, told China Daily that 13 people from the group are members of the association. One of the members was the association's Vice-Chairman Meng Gaosheng, who led the group.
Sin Chew Daily, a major Chinese-language Malaysian newspaper, said that the 30 group members who later boarded Flight MH370 had taken part in the art fair opening on Tuesday.
The newspaper said that 35 people, including 25 artists, executives and their families arrived in Kuala Lumpur on March 3, but the artists took different flights back. Six people from the group did not board the missing flight, the newspaper said.
The exhibition featured a lineup of artists from around China who demonstrated their proficiency in calligraphy, oil paintings and ink art.
Meng, the association vice-chairman, was quoted by Xinhua News Agency as saying at the opening ceremony that "the exhibition coincides with the 40th anniversary of the establishment of Sino-Malaysian diplomatic ties".
"They not only brings the magnificence of Chinese art to people in Kuala Lumpur, but also they want to celebrate the friendship of the two countries through their brushwork."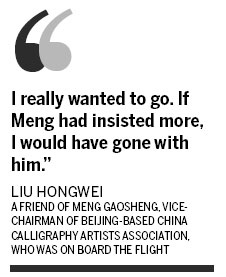 Meng, 63 and a native of Shaanxi province, is himself an established calligrapher who specializes in writing xingshu, or running script, and caoshu, or cursive script, Ma said.
"He is occupied with a lot of social activities by day. He only has nighttime to practice calligraphy, and he does so until midnight," Ma said, choking back tears.
"His works are widely exhibited. He has carved out a name in the field because of his diligence and gift. He has always been a mentor and an old buddy of mine."
Liu Hongwei, 37, a friend of Meng, said Meng invited him to go on the Kuala Lumpur trip, but Liu declined because he was too busy at work.
"I really wanted to go. If Meng had insisted more, I would have gone with him," he said.
Liu said he is praying for all the passengers.
Yin Shi, the secretary-general of the Jiangsu Artists Association, confirmed that two painters and the wife of one of them were on the plane.
"Liu Rusheng, a director of Nanjing Painting and Calligraphy Academy; a painter, Wang Linshi; and Liu's wife, Bao Yuanhua, took the plane after attending an art exhibition in Malaysia," Yin said. "Some colleagues said that another two painters from the academy, Dong Guowei and Zhao Zhaofang, were also aboard.
"We are trying to connect with the missing people's relatives and comfort them."
Li Junfeng, a friend of Liu's, said they had planned to talk about work issues after Liu came back from Malaysia.
"I felt so shocked and saddened when I saw his name on the passengers list this morning," he said.
Also on board was Memetjon Abula, also known as Mai Mai Ti Jiang A Bu La, as printed on the award certificate presented to him by the Malaysia Chinese Assembly Hall. The Uygur painter, born in 1979 in Kashgar, the Xinjiang Uygur autonomous region, teaches at Kashgar Normal University.
His friend, Kurbanjan Samat, a cameraman with China Central Television, posted on his verified micro blog that Memetjon Abula was with the group and on board Flight MH370. He also posted photos of Memetjon Abula with the award certificate he received in the Malaysian capital.
Kurbanjan Samat told China Daily that Memetjon Abula has been taking refresher courses at the Chinese Academy of Oil Painting for two years, while his wife stays in Kashgar to take care of their 9-year-old daughter, who attends school there.
Kurbanjan Samat received a call from Memetjon Abula on March 1 to talk about the visit to Kuala Lumpur. Kurbanjan Samat was too busy with work to meet Memetjon Abula, whom he hadn't seen for a year. That was the last time they talked.
"We've been friends for eight years. He is not a talkative person, but he can go on and on about the topics of fine arts and especially the oil paintings that he loves deeply and is so devoted to," Kurbanjan Samat said.
"He always looks for opportunities to learn new things about oil painting. Most of the paintings on my micro blog were created during his studies in Beijing, which show his broadened vision of art."
Cang Wei, Huang Zhiling and Dai Wenxiu contributed to this story.
The Star in Malaysia and Asia News Network also contributed to this story.
linqi@chinadaily.com.cn