Creating magic with wax prints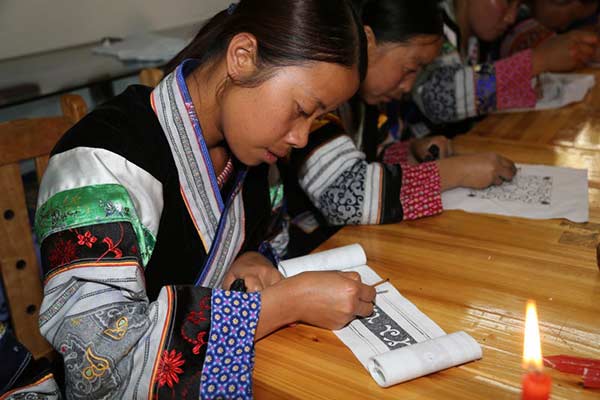 A woman wax prints on a piece of cloth. [Photo provided to chinadaily.com.cn]
Specially created spatula, wax liquor, and cloth, the combination might make no sense to many people, but are fantastic tools for craftsmen to hand-make sophisticated wax printing.
Cai Qun, a woman from a remote village in Bijie, Southwest China's Guizhou province, has devoted herself to re-energizing and recreating the ancient handcraft technology she has learnt since eight.
She grew up with two things that are emotionally close to her -- wax printing and embroidery.
Wax printing works quite amazingly in a very traditional way.
It is created using small spatula as a pen and wax liquid as paint to draw patterns on the cloth, then the cloth is placed into the dye vat with hand-made blue paint in it; when the cloth soaks up all the blue color, it is taken out and boiling water is poured on it to get the wax off.
The blue cloth will reveal delicate patterns clearly in white after the cloth is dried in air.
According to Cai, using small knife to draw the liquid wax into sophisticated patterns on a cloth is the hardest procedure.
"Every stroke and line is random as there's no set patterns and requirement," said Cai, which means without tons of practice and knowledge of how lines will go, any line of drawing could ruin the whole piece.
"When a mistake is made, you can only start over a new one," Cai said, "there's no second chance."
The temperature of the wax is another tricky part.
When people do a wax printing, they hold the tool near the candle's flames to increase the heat of the tool, then dip it into the black wax and draw it on the cloth under the right heat.
"There's no specific data, you have to control the temperature by your instinct. The instinct comes from years of practice," Cui said.
She said the wax will not respond to the tool well if the temperature is low and will melt if the heat is high.