Wuxi: A youth maker's craft dream
(chinadaily.com.cn)
Updated: 2016-03-04
Qiu Ting, a 27-year-old woman who started her own business career setting up a handicraft studio in Wuxi city, is on her way to become a prominent success after receiving a flurry of sales online.
Upon graduating from the Sichuan Conservatory of Music, Qiu joined a group of youth makers; a group of crafty people skilled at making decorative, interesting and novelty items out of just about anything you can find. Despite having a music major, after just a short while, Qiu realized she was pretty good at handicraft too.
"I have the best handiwork in the music field, and learn music best in handicraft field," Qiu said impishly.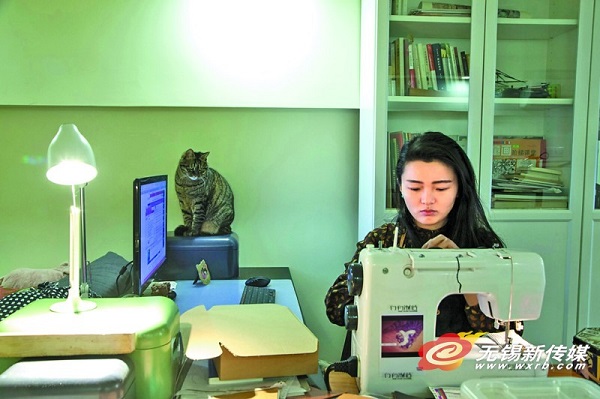 Qiu Ting is engaged in her handicraft work as her cat watches on quietly. [Photo/wxrb.com]
In 2008, during some down time at university, Qiu decided to open her own shop selling vintage clothes and second-hand items. It was at this time that her first entrepreneurial desires were woken.
Upon returning to Wuxi in 2014, Qiu opened a handicraft studio in the city. "I am very young and have a lot of passion to deal with different challenges involved in starting my own business," said Qiu. "I should especially thank my cat who always accompanies me!"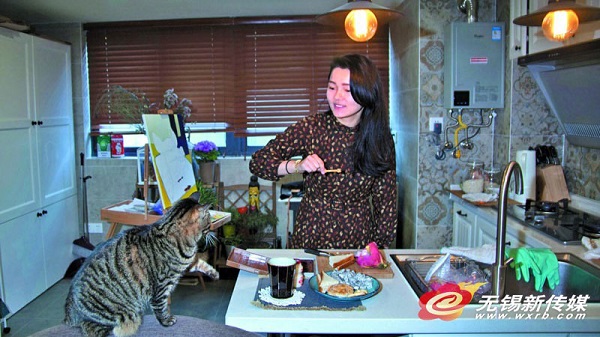 Qiu Ting plays with her cat during a lunch time break. [Photo/wxrb.com]
Qiu found the stray cat in the winter of 2014 and brought her home, but little did she know that the frail feline would become the impetus for her success. One day, Qiu made a bell ornament for the cat, with some leftover material. Later, Qiu decided to make a few more bells and put them online for sale. She had no idea that these tiny ornaments would prove so popular, selling out in no time at all.
This inspired Qiu to open the studio's online sales shop, where cat ornaments have remained popular ever since.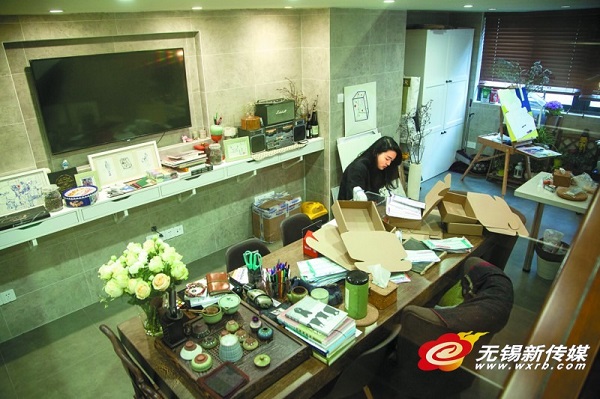 Qiu Ting packages her handicraft works to be sent to online buyers. [Photo/wxrb.com]
Nowadays, Qiu considers herself as craftsman. Impressed in childhood by her father's molding skills, Qiu has gradually adapted into making customized handicraft works with high-quality leather, manually cutting and sewing in order to build her studio's reputation.
The former Wuxi New District, now known as Wuxi Xinwu district or Wuxi National Hi-tech district, was founded in 1992 and underwent administrative changes in 1995, 2002 and 2005.
>> Read More