To teacher with love: Students bid farewell to 'Granny He'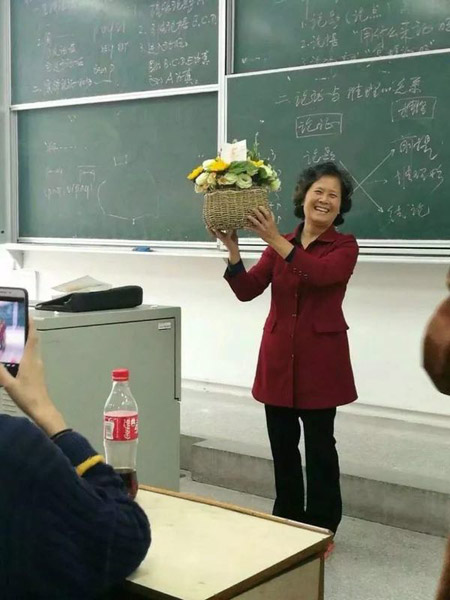 He Haiqin holds a bouquet of yellow and white flowers in a classroom at Yancheng Teachers University, East China's Jiangsu province, Oct 27, 2017. [Photo by Fan Muxiaozi/chinadaily.com.cn]
On the day she retired, He Haiqin received a basket of flowers and thousands of greetings from students after she gave the last lesson.
He, 60, had worked as a teacher for 35 years at Yancheng Teachers University, East China's Jiangsu province. She is loved by the students and is usually called "Granny He" due to her kindness and humor.
On Friday afternoon, when she finished the last lesson, her husband Mao Xiufeng opened the door and presented her a bouquet of yellow and white flowers. He then helped her clean the table and the books before bidding farewell to the students. Later, the couple rode bicycles home together.
"My daughter kept asking me when I would give the last lesson," said He. "I never thought she would buy me the flowers on the Internet."
Mao was afraid that the courier might not be able to find the right classroom to deliver the flowers on time, so he met with the courier in advance and carried the flowers himself.
Sixty-two-year-old Mao and He were classmates in college. He taught writing in the same university.
Thousands of students sent their regards to the couple on the university's Weibo and Wechat, China's popular social media platforms. Some said that "the most romantic thing I can think of is growing old together with you" and "that is the kind of love I want to have after I have grey hair".